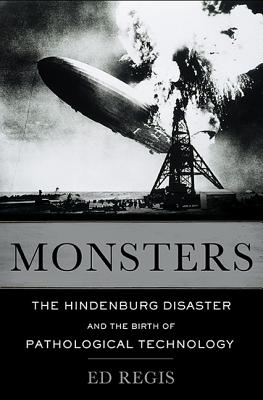 Monsters (Hardcover)
The Hindenburg Disaster and the Birth of Pathological Technology
Basic Books, 9780465065943, 352pp.
Publication Date: September 8, 2015
* Individual store prices may vary.
Description
"Oh, the humanity!" Radio reporter Herbert Morrison's words on witnessing the destruction of the Hindenburg are etched in our collective memory. Yet, while the Hindenburg—like the Titanic—is a symbol of the technological hubris of a bygone era, we seem to have forgotten the lessons that can be learned from the infamous 1937 zeppelin disaster.

Zeppelins were steerable balloons of highly flammable, explosive gas, but the sheer magic of seeing one of these behemoths afloat in the sky cast an irresistible spell over all those who saw them. In Monsters, Ed Regis explores the question of how a technology now so completely invalidated (and so fundamentally unsafe) ever managed to reach the high-risk level of development that it did. Through the story of the zeppelin's development, Regis examines the perils of what he calls "pathological technologies"—inventions whose sizeable risks are routinely minimized as a result of their almost mystical allure.

Such foolishness is not limited to the industrial age: newer examples of pathological technologies include the US government's planned use of hydrogen bombs for large-scale geoengineering projects; the phenomenally risky, expensive, and ultimately abandoned Superconducting Super Collider; and the exotic interstellar propulsion systems proposed for DARPA's present-day 100 Year Starship project. In case after case, the romantic appeal of foolishly ambitious technologies has blinded us to their shortcomings, dangers, and costs.

Both a history of technological folly and a powerful cautionary tale for future technologies and other grandiose schemes, Monsters is essential reading for experts and citizens hoping to see new technologies through clear eyes.

About the Author
Ed Regis is a longtime science writer and the author of seven books, including What is Life?, The Info Mesa, and Who's Got Einstein's Office?. Most recently he was co-author, with George Church, of Regenesis: How Synthetic Biology Will Reinvent Nature and Ourselves.
Praise For Monsters: The Hindenburg Disaster and the Birth of Pathological Technology…
"Regis's account of the [Hindeburg]'s final flight makes for gripping reading."—
Financial Times
"A must for any aeronautical history buff, this book is as readable and entertaining as a high octane spy thriller and as informative as a semesters worth of graduate level seminars. Regis is a gifted writer with empathy for his subjects, even if they do sound bonkers."—
Library Journal
"Wonderful.... One of the most readable accounts of airship history that has recently been published."—
airships.net
"Much more than another book about the Hindenburg disaster."—
Maclean's
"An engaging history of humankind's technological hubris."—
Science News
"Fascinating.... A fine history of Zeppelin and his disastrous airships."—
Publishers Weekly
"A fine account of the rigid airship and...a thoughtful meditation on out-of-control technology."—
Kirkus Reviews
"
Monsters
is both a fascinating historical narrative and a wakeup call to the dangers of technologies that capture our collective imagination--but come with staggering risks that seem obvious only in retrospect. As we move into an era of rapid advance in fields like genetic engineering, synthetic biology, and artificial intelligence, the forgotten lessons from technology's past are sure to become ever more relevant."—
Martin Ford, author of Rise of the Robots
"Ed Regis has written an important book, one that should be required reading for scientists, engineers, politicians, and policy-makers pursuing The Next Big Thing. Focusing on the alluring and tragic Hindenburg, but examining as well such costly projects as the abandoned Superconducting Supercollider, Project Plowshare (earth moving using nuclear bombs!) and proposed "Space Arks" roaming the Cosmos, Regis shows how fascination with ill-considered mega-technology has generated both waste and human tragedy. This is a sobering yet fascinating picture of the human and material costs incurred when the unchecked dreams of zealots run amok."—
Richard P. Hallion, Senior Adviser for Air and Space Issues, Directorate for Security, Counterintelligence and Special Programs Oversight, The Pentagon
or
Not Currently Available for Direct Purchase