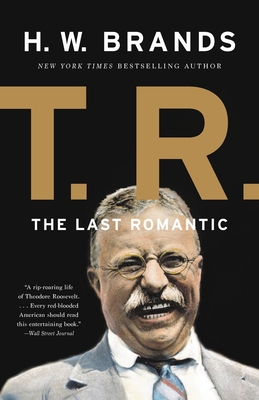 T.R. (Paperback)
The Last Romantic
Basic Books, 9780465069590, 928pp.
Publication Date: September 11, 1998
* Individual store prices may vary.
Description
From the New York Times bestselling author, an acclaimed biography of President Teddy Roosevelt
Lauded as "a rip-roaring life" (Wall Street Journal), TR is a magisterial biography of Theodore Roosevelt by bestselling author H.W. Brands. In his time, there was no more popular national figure than Roosevelt. It was not just the energy he brought to every political office he held or his unshakable moral convictions that made him so popular, or even his status as a bonafide war hero. Most important, Theodore Roosevelt was loved by the people because this scion of a privileged New York family loved America and Americans.
And yet, according to Brands, if we look at the private Roosevelt without blinders, we see a man whose great public strengths hid enormous personal deficiencies; he was uncompromising, self-involved, and a highly imperfect brother, husband, and father.
Beautifully written, and powerfully moved by its subject, TR is the classic biography of one of America's greatest and most complex leaders.
About the Author
H.W. Brands holds the Jack S. Blanton Sr. Chair in History at the University of Texas at Austin. A New York Times bestselling author, he was a finalist for the Pulitzer Prize in biography for The First American and Traitor to His Class. He lives in Austin, Texas.
Praise For T.R.: The Last Romantic…
"A rip-roaring life of Theodore Roosevelt, in my view the most lovable, fascinating and creative of American presidents. Every red-blooded American should read this entertaining book.... Mr. Brands calls T.R. the last romantic, and it is true."—Paul Johnson, Wall Street Journal

"Roosevelt's life in Mr. Brands' able hands is a demonstration of the remarkable power of the human will. Roosevelt literally created the character he lived out, and then lived within it until he finally became his creation."—Washington Post

"Brands makes the case that Roosevelt believed in heroes and measured himself against giants of history and literature.... He puts them in vivid context with often wry narration and an impressive depth of historical research."—USA Today

"Brands outlines with suitable vigor the most important aspects of T.R.'s presidential years.... It seems likely that T.R. will stand for some time as the standard one-volume life."—Chicago Sun Times

"Brands shows how this hero of the charge up San Juan Hill, more than anyone else, led the United States onto the world stage."—Los Angeles Times

"Brands' narrative is lucid, fast-moving and unblended by hero-worship. In a single volume he has packed Roosevelt's 60 years of ambition, adventure, expediency, achievement, and, finally, frustration at having peaked too soon."—Publishers Weekly
or
Not Currently Available for Direct Purchase