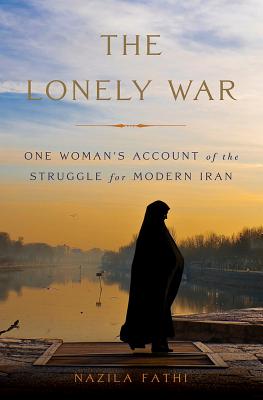 The Lonely War
One Woman's Account of the Struggle for Modern Iran
Hardcover

* Individual store prices may vary.
Description
In the summer of 2009, as she was covering the popular uprisings in Tehran for the New York Times, Iranian journalist Nazila Fathi received a phone call. "They have given your photo to snipers," a government source warned her. Soon after, with undercover agents closing in, Fathi fled the country with her husband and two children, beginning a life of exile.

In The Lonely War, Fathi interweaves her story with that of the country she left behind, showing how Iran is locked in a battle between hardliners and reformers that dates back to the country's 1979 revolution. Fathi was nine years old when that uprising replaced the Iranian shah with a radical Islamic regime. Her father, an official at a government ministry, was fired for wearing a necktie and knowing English; to support his family he was forced to labor in an orchard hundreds of miles from Tehran. At the same time, the family's destitute, uneducated housekeeper was able to retire and purchase a modern apartment -- all because her family supported the new regime.

As Fathi shows, changes like these caused decades of inequality -- especially for the poor and for women -- to vanish overnight. Yet a new breed of tyranny took its place, as she discovered when she began her journalistic career. Fathi quickly confronted the upper limits of opportunity for women in the new Iran and earned the enmity of the country's ruthless intelligence service. But while she and many other Iranians have fled for the safety of the West, millions of their middleclass countrymen -- many of them the same people whom the regime once lifted out of poverty -- continue pushing for more personal freedoms and a renewed relationship with the outside world.

Drawing on over two decades of reporting and extensive interviews with both ordinary Iranians and high-level officials before and since her departure, Fathi describes Iran's awakening alongside her own, revealing how moderates are steadily retaking the country.
Praise For The Lonely War: One Woman's Account of the Struggle for Modern Iran…
"An invaluable contribution to our understanding of current Iranian political and cultural dynamics, the driving forces behind Iranian foreign policy, and the challenges the country is likely to face in the near future."
—Foreign Policy Association
"Vivid and compelling… Fathi recounts in exquisite detail three decades in pre and post-1979 Iran – revealing the inherent contradictions at the heart of life after the revolution."
—The Guardian (UK)
"Fathi offers a masterful telling of her country's modern history."
—New York Journal of Books
"With dazzling frankness and authenticity.... Fathi shows the reality faced by Iranian citizens throughout the last 30 years of political upheaval in the country. [M]ultifaceted and incredibly informative.... Readers of history and politics will revel in the accurate reporting of a veteran journalist and lovers of human interest stories will feel gratified to know Fathi so personally. This educational, emotionally enthralling read about a country many Americans know only a little about is a must-read."
—Library Journal, starred review
"Pertinent and timely."
—Pittsburgh Tribune Review
—
-
"Drawing on more than a decade of reporting for the
New York Times
in Iran, Nazila Fathi has written a lucid and highly engaging portrait of Iranian politics from the 1979 revolution to today. One of the book's most illuminating features is her vivid portrait of the impoverished recruits for the paramilitary Basij and Revolutionary Guard Corps—including their subsequent disillusionment and adoption of a more middle class, secular life style. Highly recommended for college courses."
—Janet Afary, author of Sexual Politics in Modern Iran
"As fearless as it is honest,
The Lonely War
tells the inside story of how Iranians have grappled with—and also been inspired by—their Islamic Republic. Journalist Nazila Fathi gives us a powerful personal account of coming of age in revolutionary Iran, exploring Iran's turbulent modern history through a remarkable cast of real characters and deftly navigating Iran's cultural and political divide to provide us a superb picture of what makes Iran today."
—Scott Peterson, author of Let the Swords Encircle Me: Iran—A Journey Behind the Headlines
—
-
"Moving… The book intertwines [Fathi's] personal experiences of marriage and motherhood with the major events of the period."
—Al-Monitor
"In a skilful balance of personal history and academic research, Fathi brings to life the complex social, economic and political upheaval of the transition from the shah of Iran's western-oriented, oil-drunk secular society, to the Ayatollah Khomeini's vision of a cloistered Shiite Islamic republic.... A detailed, vivid chronicle of three decades of oppression, complex power struggle and, as Fathi makes clear, a people who will not be silenced. An important, highly enjoyable contribution to the understanding of modern Iran."
—Winnipeg Free Press
"[Fathi's] sharp new memoir,
The Lonely War
, reveals an expert understanding of the motivations of Iran's tangled, self-contradictory religious and political leadership. A well-told story about Iran's ongoing resistance to faith-based oppression."
—Washington City Paper
"[A] gripping account… This is essential reading for anyone interested in the evolution of modern Iran."
—Booklist
"Readers keeping an eye on the contemporary Middle East will learn much from Fathi's travels and observations."
—Kirkus Reviews
—
-
"Richly informative and insightful—a wonderful book and a great read."
—Leila Ahmed, author of A Border Passage: From Cairo to America—A Woman's Journey
"Nazila Fathi's
The Lonely War
is both a touching personal story that illuminates the struggles of life in Iran and a broader reflection on the sociopolitical effects of the Islamic revolution on the Iranian people. With so much misinformation about Iran in the national discourse, Fathi's book is a valuable resource for anyone looking to read beyond the headlines."
—Hooman Majd, author of The Ayatollah Begs to Differ: The Paradox of Modern Iran
"Nazila Fathi's riveting story of growing up under the Islamic Revolution and becoming one of the country's finest women journalists is told with passion and deep intelligence. A powerful read that sheds much needed light on Iran's enduring contradictions,
The Lonely War
is at once an intimate memoir of an Iranian who struggled to remake her country from within, and a chilling glimpse into how the state silences its critics."
—Azadeh Moaveni, author of Lipstick Jihad: A Memoir of Growing up Iranian in America and American in Iran
—
-
"In short and lucid chapters...Ms. Fathi conveys the experiences of people from different walks of life and intersperses these accounts with observations about how the new Islamic revolutionary ideology was conceived, anticipated, received and resisted. Her portraits of the women's rights activists Faezeh Hashemi and Shahla Sherkat make for fascinating reading. So do her accounts of other courageous Iranian women.... Ms. Fathi's book is a testament to her courage and to the brave struggles of many Iranians who continue to live there with patience, hope and determination."
—New York Times

"A revealing and often exhilarating portrait of [Fathi's] life as a female reporter in the Islamic Republic."
—Wall Street Journal

"A personal and experiential account of how changes in the internecine politics of Iran since the revolution have affected the lives of millions. Fathi's supremely accessible narrative is an excellent primer for those who want to understand the machinations of the regime; hers is a brave and important voice."
—Washington Post

"Fathi distills three decades of Iranian politics through a personal lens in her unputdownable memoir."
—Vogue.com

"Paints a vivid portrait of a nation struggling to reinvent itself after years of oppression."
—Shelf Awareness
—-
Basic Books, 9780465069996, 336pp.
Publication Date: December 9, 2014
About the Author
Nazila Fathi worked for two decades as an Iranian correspondent for the New York Times before being forced to flee the country in 2009 at the height of the Green Revolution. Currently a writer for NPR and Foreign Policy and a commentator for Persian Language Voice of America television, she has held fellowships at Harvard University's Belfer Center at the Kennedy School of Government, Harvard's Shorenstein Center for Press and Politics, and Harvard's Nieman Foundation, as well as at Lund University in Sweden. Fathi holds an MA in Political Science and Women's Studies from the University of Toronto.

A frequent guest on BBC, CNN, NPR, and Fox News, she has also written for the New York Review of Books, Time, CNN.com, Agence France-Presse, Harvard's Nieman Reports, and the online news outlets openDemocracy and GlobalPost.
Coverage from NPR
or
Not Currently Available for Direct Purchase