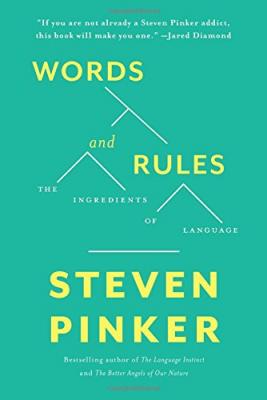 Words and Rules
The Ingredients Of Language
Paperback

* Individual store prices may vary.
Other Editions of This Title:
Digital Audiobook (8/3/2015)
MP3 CD (8/4/2015)
Compact Disc (8/4/2015)
Description
"If you are not already a Steven Pinker addict, this book will make you one." -- Jared Diamond

In Words and Rules, Steven Pinker explores profound mysteries of language by picking a deceptively simple phenomenon -- regular and irregular verbs -- and examining it from every angle. With humor and verve, he covers an astonishing array of topics in the sciences and humanities, from the history of languages to how to simulate languages on computers to major ideas in the history of Western philosophy.

Through it all, Pinker presents a single, powerful idea: that language comprises a mental dictionary of memorized words and a mental grammar of creative rules. The idea extends beyond language and offers insight into the very nature of the human mind.

This is a sparkling, eye-opening, and utterly original book by one of the world's leading cognitive scientists.
Praise For Words and Rules: The Ingredients Of Language…
"[An excellent work of popular science."—Thomas Nagel, The New Republic

"the book provides a scholarly, persuasive, enjoyable, and eminently readable account of important language phenomena."—Nature

"Compelling and revelatory."—Guardian

"An intellectual joyride."—Globe and Mail

"Not only does Pinker breathe life into the topic, he makes the reading breathtakingly exciting."—Montreal Gazette

"A fascinating voyage of discovery."—Sunday Telegraph
Basic Books, 9780465072705, 384pp.
Publication Date: July 14, 2015
About the Author
Steven Pinker, a native of Montreal, studied experimental psychology at McGill University and Harvard University. He is a Johnstone Family Professor in the Department of Psychology at Harvard University. Pinker conducts research on languages and cognition, writes for publications such as the New York Times, Time, and the New Republic, and is the author of several books, including The Language Instinct, How the Mind Works, The Blank Slate, The Stuff of Thought, and most recently The Better Angels of Our Nature: Why Violence Has Declined.