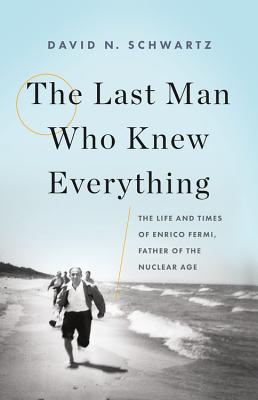 The Last Man Who Knew Everything
The Life and Times of Enrico Fermi, Father of the Nuclear Age
Hardcover

* Individual store prices may vary.
Other Editions of This Title:
Digital Audiobook (12/4/2017)
Compact Disc (12/5/2017)
Compact Disc (12/5/2017)
Description
The definitive biography of the brilliant, charismatic, and very human physicist and innovator Enrico Fermi

In 1942, a team at the University of Chicago achieved what no one had before: a nuclear chain reaction. At the forefront of this breakthrough stood Enrico Fermi. Straddling the ages of classical physics and quantum mechanics, equally at ease with theory and experiment, Fermi truly was the last man who knew everything -- at least about physics. But he was also a complex figure who was a part of both the Italian Fascist Party and the Manhattan Project, and a less-than-ideal father and husband who nevertheless remained one of history's greatest mentors. Based on new archival material and exclusive interviews, The Last Man Who Knew Everything lays bare the enigmatic life of a colossus of twentieth century physics.
Praise For The Last Man Who Knew Everything: The Life and Times of Enrico Fermi, Father of the Nuclear Age…
"Mr. Schwartz deftly conveys the aesthetic beauty of Fermi's insights without getting mired in their minutiae."—Economist

"There have been other accounts of his life, yet David N. Schwartz's new portrait, The Last Man Who Knew Everything, is the first thorough biography to be published since Fermi's death 64 years ago in 1954. Schwartz, working with limited sources, tells the story well...[His] biography adds importantly to the literature of the utterly remarkable men and women who opened up nuclear physics to the world."—New York Times Book Review

"[Schwartz] does an admirable job of explaining the science and provides careful assessments of Fermi's influence... [and illuminates] the human effects of a project that was so urgent yet so terrible in its long-term implications."—Foreign Affairs

"Schwartz's The Last Man Who Knew Everything offers the most comprehensive description of Fermi's work so far, as well as fresh insights into his personality."—Nature

"The Last Man Who Knew Everything manages the neat double trick of making both Fermi and his abstruse work accessible to readers living in the world he did so much to create, for good and ill."—Christian Science Monitor

"An informative and fun read, rich in those anecdotes and
tales that...help to elucidate what was driving the work of the giant that Fermi
was.... The more mundane aspects of Fermi's life--his fears, vanities and human
errors, emerge...from these pages."—Physics World

"David Schwartz's elegant narrative is a formidable achievement, shining a bright light on Enrico Fermi, the most enigmatic physicist of the early atomic era. Schwartz has exhausted the archives and crafted what will certainly stand as the most deeply biographical account of this brilliant scientist's tragically short life." —Kai Bird, Pulitzer Prize-winning biographer and co-author with Martin J. Sherwin of American Prometheus: The Triumph and Tragedy of J. Robert Oppenheimer

"It is testimony to David N. Schwartz's excellence as a biographer that he can reveal the workaholic Fermi to have been such a fascinatingly complex figure... [Schwartz] excels in a portrayal that is balanced and nuanced, sympathetic but unflinching."—The Spectator (UK)

"A lucid writer who has done his homework, Schwartz...delivers a thoroughly enjoyable, impressively researched account...Never a media darling like Einstein or Oppenheimer, Enrico Fermi (1901-1954) is now barely known to the public, but few scientists would deny that he was among the most brilliant physicists of his century...A rewarding, expert biography of a giant of the golden age of physics."—Kirkus

"Told in a sure, steady voice, Schwartz's book delivers a
scrupulously researched and lovingly crafted portrait of the 'greatest Italian
scientist since Galileo.'"—Publishers Weekly

"In this compelling
new biography, Schwartz makes clear how little lay beyond the reach of this
scientific polymath.... A
sophisticated portrayal of a complex man."—Booklist

"No physicist has more concepts and places named after him than Enrico Fermi, and for good reason. A central figure in so much of twentieth-century physics, Fermi was renowned for his imagination, his brilliance, and his style. This comprehensive biography is a treasure trove of detail and revealing insight into a unique scientific figure." —Sean Carroll, author of The Big Picture: On the Origins of Life, Meaning, and the Universe Itself

"A tremendous book, fascinating and clear. I now know Enrico Fermi as well as anyone could today. Schwartz writes with a joy and passion for the subject and genuine interest in the man that shines through. There are great scientists working today on AI and gene-editing, exploring 'multi-verse' theories, searching for 'Goldilocks' planets, and developing new means of powering space travel. I hope they will someday have a biographer and chronicler as talented as Schwartz to tell their story."—Richard A. Clarke, author of Against All Enemies, Cyber War, and Warnings

"One of the finest biographies of the year, The Last Man Who Knew Everything combines the historic, the scientific and the personal in a deft and effortless way. Enrico Fermi was easily one of the most fascinating human beings of the 20th century, a man whose intellectual brilliance was trapped inside an all-too-human shell. The result, in David Schwartz's able interpretation, is nothing short of spellbinding."—Gary Shteyngart, author of Little Failure and Super Sad True Love Story

"In this compelling and well-researched biography, David Schwartz reveals both triumph and tragedy in the life and work of Enrico Fermi, one of the greatest and hitherto most enigmatic scientists of the 20th century."—Frank Close, professor of physics at Oxford and author of Neutrino and Half-Life

"David Schwartz has written a highly-readable account of an undervalued figure in the making of the atomic age---one that puts Enrico Fermi in the proper historical context."—Gregg Herken, author of Brotherhood of the Bomb

"Enrico Fermi was part of a great brain drain pre-WWII from Axis nations, when ideology overwhelmed the search for truth and even self-interest. We don't want to happen in America. Despite what you might think from the title, The Last Man Who Knew Everything, this amazing book by David Schwartz is brimming with anecdotes in which Enrico Fermi is not the smartest guy in the room. He is focused on family, colleagues and meaning. David really puts us intimately at the table for the historic atomic revolution. This humanization of geniuses and forging public engagement in complex science is crucial today as we become ever more dependent on technological leadership. As fresh and riveting a biography as any you will find." —George Church, author of Regenesis

"Enrico Fermi was a singular figure of modern science, and David Schwartz has written a singular biography. His book is unusually adept and nuanced in its appreciation and explanation of both the scientific and humanistic aspects of its subject. It is also a joy to read, as Schwartz has a beautiful authorial voice that is perfectly appropriate for his subject matter: appreciative and sympathetic, without falling into the hyperbolic or uncritical. It is a rare book that will please both the experts and the novices, but I think this is such a rare book." —Alex Wellerstein, assistant professor at the Stevens Institute of Technology and author of Restricted Data: The Nuclear Secrecy Blog
Basic Books, 9780465072927, 480pp.
Publication Date: December 5, 2017
About the Author
David N. Schwartz holds a PhD in political science from MIT and is the author of two previous books. He has worked at the State Department Bureau of Politico-Military Affairs, and at Goldman Sachs in a variety of roles in both London and New York. He lives in New York with his wife, Susan. His father, Melvin Schwartz, shared the Nobel Prize for Physics in 1988.