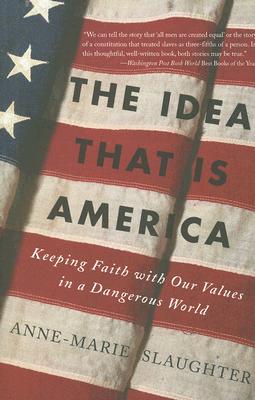 The Idea That Is America (Paperback)
Keeping Faith With Our Values in a Dangerous World
Basic Books, 9780465078097, 272pp.
Publication Date: May 27, 2008
* Individual store prices may vary.
Description
What values does America truly stand for? In The Idea That Is America, a preeminent foreign policy scholar elegantly reminds us of the essential principles on which our nation was established: liberty, democracy, equality, tolerance, faith, justice, and humility. Our ongoing struggle to live up to America's great promise matters not only to us, but also to the billions of people everywhere who look to the United States to lead, protect, and inspire the world. In The Idea That Is America, Anne-Marie Slaughter shows us the way forward.
About the Author
Anne-Marie Slaughter is the Dean of the Woodrow Wilson School at Princeton and Bert G. Kerstetter Professor of Politics and International Affairs. Former President of the American Society of International Law, she is also a Fellow of the American Academy of Arts and Sciences and serves on the board of the Council on Foreign Relations. She is the recipient of the 2007 Thomas Jefferson Award for excellence in the field of law. Dean Slaughter lives in Princeton, New Jersey.
or
Not Currently Available for Direct Purchase