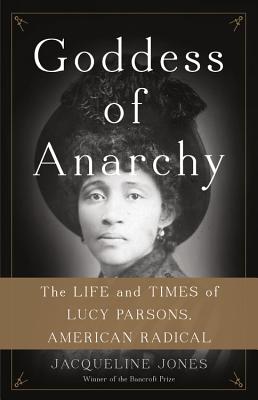 Goddess of Anarchy (Hardcover)
The Life and Times of Lucy Parsons, American Radical
Basic Books, 9780465078998, 480pp.
Publication Date: December 5, 2017
Other Editions of This Title:
Digital Audiobook (12/4/2017)
Compact Disc (12/5/2017)
Compact Disc (12/5/2017)
* Individual store prices may vary.
Description
From a prize-winning historian, a new portrait of an extraordinary activist and the turbulent age in which she lived

Goddess of Anarchy recounts the formidable life of the militant writer, orator, and agitator Lucy Parsons. Born to an enslaved woman in Virginia in 1851 and raised in Texas-where she met her husband, the Haymarket "martyr" Albert Parsons-Lucy was a fearless advocate of First Amendment rights, a champion of the working classes, and one of the most prominent figures of African descent of her era. And yet, her life was riddled with contradictions-she advocated violence without apology, concocted a Hispanic-Indian identity for herself, and ignored the plight of African Americans.

Drawing on a wealth of new sources, Jacqueline Jones presents not only the exceptional life of the famous American-born anarchist but also an authoritative account of her times-from slavery through the Great Depression.


About the Author
Jacqueline Jones holds the Ellen C. Temple Chair in Women's History and the Mastin Gentry White Professorship in Southern History at the University of Texas at Austin. Winner of the Bancroft Prize for Labor of Love, Labor of Sorrow, Jones lives in Austin, Texas.
Praise For Goddess of Anarchy: The Life and Times of Lucy Parsons, American Radical…
"Goddess of Anarchy displays the powers of a
master historian, taking the reader to both post-Civil War Texas and to Gilded
Age Chicago."—Chicago Tribune

"An outstanding book.... Jones' fascinating portrait presents an enigmatic, unpredictable activist who
sustained a lifelong oratory and writing career."—Booklist

"Goddess of Anarchy is meticulously researched."—Harper's Magazine

"Jones impresses with this
richly detailed and empathetic study of a complex figure."—Publishers Weekly

"[A] tough-minded
biography of a fiery revolutionary whose activism spanned the decades from
Reconstruction to the New Deal...comprehensive
and fair."—Kirkus Reviews

"In disentangling the riddle of Lucy Parsons, one of America's most famous Anarchists, Jones has written an important biography."—National Book Review

"Jones's book persuasively explains both the causes for which Parsons fought as well as inconsistencies apparent in her character and actions. This readable biography will appeal to readers with many interests, including the history of women's studies, radicalism, labor, race relations, urbanism, and especially Chicago."—Library Journal

"Thanks to Goddess of Anarchy...readers finally have a penetrating account of Parsons's long, remarkable life."—New York Review of Books

"Jacqueline Jones has
produced a stunning, meticulously researched, complex narrative of Lucy
Parsons, America's first black woman anarchist."—Kali Nicole Gross, author of Hannah Mary Tabbs and the Disembodied Torso: A Tale of Race, Sex, and Violence in America

"No scholar has done
more to illuminate the tangled politics of race and class in American history
than Jacqueline Jones.... A richly revealing story, brilliantly told."—Michael Willrich, author of Pox: An American History and City of Courts

"With remarkable
research and insight, the distinguished historian Jacqueline Jones has
recovered the life and thought of an extraordinary historical figure who we
barely knew."—Steven Hahn, Pulitzer Prize-winning author of A Nation Under Our Feet: Black Political Struggles in the Rural South from Slavery to the Great Migration

"Lucy Parsons was a
unique figure in the history of the American left: eloquent, beautiful,
uncompromising in her anarchist faith, and loath to embrace her mixed-race
identity. Jacqueline Jones, one of our nation's most distinguished historians,
fills her narrative of this remarkable life with both the vivid drama and the
critical understanding it deserves."

—Michael Kazin, author of War Against War: The American Fight for Peace, 1914-1918

"One of our most
talented historians tackles one of American history's most enigmatic figures.... Goddess
of Anarchy is at once a fascinating biography and a window onto the tumultuous
debates of the Gilded Age."—Karl Jacoby, author of The Strange Career of William Ellis: The Texas Slave Who Became a Mexican Millionaire

"This dramatic and
impressive book vividly brings the tumultuous and tragic life of ex-slave and
American revolutionary Lucy Parsons to what should be a large audience. Even
those of us who cherish a more heroic view of Parsons' life in struggle will
learn enormously from this meticulously researched and learned biography."—David Roediger, author of Class, Race and Marxism