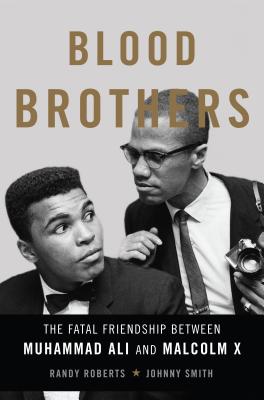 Blood Brothers
The Fatal Friendship Between Muhammad Ali and Malcolm X
Hardcover

* Individual store prices may vary.
Other Editions of This Title:
Paperback (11/1/2016)
MP3 CD (3/8/2016)
Compact Disc (3/8/2016)
MP3 CD (3/8/2016)
Compact Disc (3/8/2016)
Description
In 1962, boxing writers and fans considered Cassius Clay an obnoxious self-promoter, and few believed that he would become the heavyweight champion of the world. But Malcolm X, the most famous minister in the Nation of Islam-a sect many white Americans deemed a hate cult-saw the potential in Clay, not just for boxing greatness, but as a means of spreading the Nation's message. The two became fast friends, keeping their interactions secret from the press for fear of jeopardizing Clay's career. Clay began living a double life-a patriotic "good Negro" in public, and a radical reformer behind the scenes. Soon, however, their friendship would sour, with disastrous and far-reaching consequences.

Based on previously untapped sources, from Malcolm's personal papers to FBI records, Blood Brothers is the first book to offer an in-depth portrait of this complex bond. Acclaimed historians Randy Roberts and Johnny Smith reconstruct the worlds that shaped Malcolm and Clay, from the boxing arenas and mosques, to postwar New York and civil rights-era Miami. In an impressively detailed account, they reveal how Malcolm molded Cassius Clay into Muhammad Ali, helping him become an international symbol of black pride and black independence. Yet when Malcolm was barred from the Nation for criticizing the philandering of its leader, Elijah Muhammad, Ali turned his back on Malcolm-a choice that tragically contributed to the latter's assassination in February 1965.

Malcolm's death marked the end of a critical phase of the civil rights movement, but the legacy of his friendship with Ali has endured. We inhabit a new era where the roles of entertainer and activist, of sports and politics, are more entwined than ever before. Blood Brothers is the story of how Ali redefined what it means to be a black athlete in America-after Malcolm first enlightened him. An extraordinary narrative of love and deep affection, as well as deceit, betrayal, and violence, this story is a window into the public and private lives of two of our greatest national icons, and the tumultuous period in American history that they helped to shape.
Praise For Blood Brothers: The Fatal Friendship Between Muhammad Ali and Malcolm X…
Winner of the 2017 North American Society for Sport History Book Award—-

Wall Street Journal, David Margolick:
"[An] absorbing and provocative new book... An engrossing and important book."—-

New York Times Book Review:
"A rigorously researched book that gracefully pivots between the world of the ring and the racial politics of the early '60s."
—-

Washington Post:
"Earnest and...smartly constructed."
—-

National Review, James Rosen:
"Exhaustively researched and tautly written, Blood Brothers marks a milestone in the biographical literature of Malcolm X and Muhammad Ali, an invaluable addition to our understanding of America in the 1960s. In all it touches the far-flung but interconnected worlds of race, religion, politics, sports, cities, organized crime, and the news media...this sober and detailed book, a dual biography that alternates between protagonists like a suspense novel, renders profound service. The authors unearth reams of new evidence, shine light on long-overlooked episodes, and hack away at the barnacles of mythology, thereby giving us the finest portrait yet of the doomed relationship that transformed Cassius Clay into Muhammad Ali."—-

Economist:
"Though their individual lives have been explored through previous books and movies, Blood Brothers: The Fatal Friendship Between Muhammad Ali and Malcolm X delves into the close kinship these men shared, and the reasons it ultimately fell apart."—-

Library Journal:
"This book offers a significant contribution to serious studies of Malcolm X, Muhammad Ali, and the Nation of Islam."
—-

New York Post:
The authors give us a thorough examination of the relationship between the two icons in the context of the black experience and the turbulent 1960s. White America blamed Malcolm for Cassius Clay's transformation to Muhammad Ali, but the truth is more complicated, involving the split between Malcolm and the Nation of Islam. We're brought back to the champ's early boxing days and see how the brash Ali whom America came to know developed."—-

City Journal:
"The broad outlines of the Ali/Malcolm drama are well known, but Roberts and Smith emphasize how crucial each was to the other's destiny: Ali's as a global figure of black pride and Malcolm's as a martyred black visionary. They provide more exhaustive detail than previously available, aided by newly released FBI files and personal papers. And they infuse the tale with sharp insights and an impending sense of tragedy...Blood Brothers reminds us of a time when an heroic image of Ali would have seemed as unlikely as the idea that Cassius Clay could beat Sonny Liston, or that a big-budget Hollywood film would someday venerate the life of Malcolm X."
—-

Publishers Weekly:
[A] provocative history...Roberts and Smith map the relationship between the troubled icons in painstaking detail and debunk long-held assumptions about their break...Roberts and Smith bring a fresh perspective to the story in the civil rights movement, and capture the ferment of the broader era."—-

Kirkus Reviews:
"[Roberts and Smith] sharply detail Malcolm's growing disillusionment with Elijah, his heartbreak at the loss of Ali's allegiance, and the ugly dynamic within the Nation that left the defiant minister murdered. A page-turning tale from the 1960s about politics and sports and two proud, extraordinary men whose legacies endure."—-

The Times:
"Thanks to Randy Roberts and Johnny Smith's enthralling narrative we now have a better understanding of how a complex relationship was born, and how it fell apart."
—-

Boston Globe, Allen Barra:
A unique hybrid of race, politics, and sports; it is easy to read yet gives rise to sober reflection. It fills a gap in our understanding of one of the most fascinating relationships in American history."—-

Louisville Courier-Journal:
"Historians Roberts and Smith have written the first book examining the complex bond between the two men, who met in 1962 as the young Louisville boxer Cassius Clay was making a name for himself."
—-

Booklist:
"Roberts and Smith portray both of these courageous and controversial, inspired and inspiring men with fresh, stinging clarity, and extend our perception of the interconnectivity of race, religion, sports, and media during this violent and transformative era, which is so very germane today."—-

Los Angeles Times:
"Armed with redacted FBI files and rare archival material, the historians challenge standard accounts of the friendship and use their revision to illuminate the moment when the civil rights era, anti-colonial struggles and the baby boomers' coming of age coalesced to reshape the world in ways that still resonate...In convincing detail, Blood Brothers traces Ali's rise to international celebrity while Malcolm was stalked and harassed by the Fruit of Islam, the paramilitary group that enforced obedience to the church."
—-

Dallas Morning News:
"In the most detailed account to date of this fascinating bond, professors of history Randy Roberts (Purdue) and Johnny Smith (Georgia Tech) unveil a story few Americans know, arguing that Ali and Malcolm were much more than mere acquaintances; their symbiotic relationship, with Ali as pupil and Malcolm as mentor, was deeply important to each man. From beginning to end, Blood Brothers is a story of transformation."
—-

Washington Times:
"Blood Brothers is shedding light on the secret friendship between boxing great Muhammad Ali and civil rights leader Malcolm X."—-

"In earlier works, Randy Roberts and Johnny Smith have used their skills as professional historians to pierce the veil of myth, hero worship, and hype that mars so much sports journalism. In this illuminating joint effort, Blood Brothers tells the story of a strange friendship marked by initial affection, cold manipulation, and ultimate estrangement. They show that Muhammad Ali and Malcolm X, so brave and assertive in their public lives, shared another bond stronger than friendship: fear of assassination by their spiritual mentor, Elijah Muhammad."
-Howell Raines, former executive editor of the New York Times
—-

"There's brilliant history in this crackling story of two men whose tragic brotherhood changed America. Absorbing and essential reading."
-Robert Lipsyte, former sports columnist for the New York Times
—-

"Well researched and spritely written, Blood Brothers is, by far, the most complete and detailed account of the friendship between Muhammad Ali and Malcolm X, and how black nationalist politics profoundly changed how black athletes saw big-time sports in America. Blood Brothers fills in important gaps for those who know the story and provides a gripping, informative history for those who do not."
-Gerald Early, editor of the Muhammad Ali Reader and author of A Level Playing Field: African American Athletes and the Republic of Sports—-
Basic Books, 9780465079704, 392pp.
Publication Date: February 2, 2016
About the Author
Randy Roberts is the 150th Anniversary distinguished professor of history at Purdue University. He is the award-winning author of many books on the intersection of popular and political history, including A Season in the Sun: The Rise of Mickey Mantle (with Johnny Smith). He lives in Lafayette, Indiana.

Johnny Smith is the J. C. "Bud" Shaw professor of sports history and an associate professor of history at Georgia Tech. He is the co-author of Blood Brothers: The Fatal Friendship Between Muhammad Ali and Malcolm X (with Randy Roberts). He lives in Atlanta, Georgia.
Coverage from NPR
or
Not Currently Available for Direct Purchase