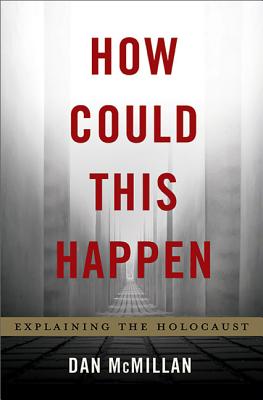 How Could This Happen
Explaining the Holocaust
Hardcover

* Individual store prices may vary.
Description
The Holocaust has long seemed incomprehensible, a monumental crime that beggars our powers of description and explanation. Historians have probed the many sources of this tragedy, but no account has united the various causes into an overarching synthesis that answers the vital question: How was such a nightmare possible in the heart of western civilization?

In How Could This Happen, historian Dan McMillan distills the vast body of Holocaust research into a cogent explanation and comprehensive analysis of the genocide's many causes, revealing how a once-progressive society like Germany could have carried out this crime. The Holocaust, he explains, was caused not by one but by a combination of factors -- from Germany's failure to become a democracy until 1918, to the widespread acceptance of anti-Semitism and scientific racism, to the effects of World War I, which intensified political divisions within the country and drastically lowered the value of human life in the minds of an entire generation. Masterfully synthesizing the myriad causes that led Germany to disaster, McMillan shows why thousands of Germans carried out the genocide while millions watched, with cold indifference, as it enveloped their homeland.

Persuasive and compelling, How Could This Happen explains how a perfect storm of bleak circumstances, malevolent ideas, and damaged personalities unleashed history's most terrifying atrocity.
Praise For How Could This Happen: Explaining the Holocaust…
István Deák, Seth Low Professor Emeritus, Columbia University, author of Essays on Hitler's Europe
"An important and much needed book. In explaining why the Holocaust happened, Dan McMillan explores not only the motives of Hitler and his fanatical followers, but also of the millions of ordinary Germans and other Europeans who shared responsibility for this tragedy. Beautifully written, persuasive, and often very touching, this book should be read by everyone who wants to understand how such a monstrous crime was possible."

Robert O. Paxton, Professor Emeritus of History, Columbia University
"How could a cultivated nation like Germany unleash a murderous frenzy against the Jewish people? Many authors have described the killings. A few authors have warned that explaining is in itself a profanation. But Dan McMillan takes a different course. With eloquence and clarity he sets the Shoah in a broad historical context. McMillan shows how step by step, ideas and institutions came into place in western nations, especially in Germany, that made the killings conceivable, then possible, and even likely, but never inevitable. This book is an impressive achievement."

Jewish Book Council
"McMillan...focuses in vivid and engaging prose on two critical questions: 'Why Germany?' and 'Why the Jewish People?'"

Choice
"[McMillan's] argument that the causes of the catastrophe were multifaceted is well grounded and quite compelling. Equipped with excellent endnotes, the work is well suited for general readers, students, and scholars."

Publishers Weekly
"This thoughtful work examines why the Nazis came to power and how they could engage in murder on such an unprecedented scale."

Sir Ian Kershaw, author of Hitler and The End: The Defiance and Destruction of Hitler's Germany, 1944-1945
"Dan McMillan's book is clearly written, well-structured, and rests on good acquaintance with recent research. It offers a thoughtful and intelligent answer for a non-specialist readership to the vital but often strangely ignored question: what caused the Holocaust? It deserves to be widely read."
Basic Books, 9780465080243, 288pp.
Publication Date: April 8, 2014
About the Author
Dan McMillan holds a Ph.D. in German history from Columbia University and a law degree from Fordham University, and has worked as a history professor and a prosecuting attorney. He lives in New York City.