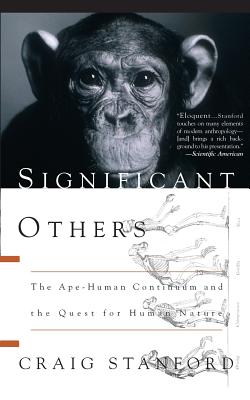 Significant Others (Paperback)
Basic Books, 9780465081721, 256pp.
Publication Date: June 20, 2002
* Individual store prices may vary.
Description
Evolutionary scientists know that the line that divides humans from other animals has grown increasingly blurry, yet many other fields, especially in the social sciences, have not really absorbed this knowledge. At the same time, the knowledge that all humans are genetically and cognitively modern has left the apes as our only true "savages." Thus if we want to learn about human nature and how we came to be as we are, we must look to the apes. In this sweeping, fresh, controversial book, primatologist Craig Stanford does just that, giving us fascinating insights--and debunks many myths--about infanticide, mating practices, and the origins of human cognition.
About the Author
Craig Stanford is Co-Director of the Jane Goodall Primate Research Center, in Gombe, Uganda; Director of the Bwindi-Impenetrable Great Ape Project, in Bwindi-Impenetrable National Park, Uganda; and Associate Professor of Anthropology at the University of Southern California. He splits his time between Uganda and Los Angeles, California.