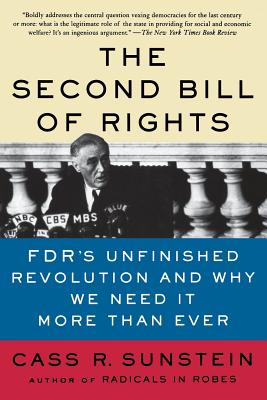 The Second Bill of Rights (Paperback)
FDR's Unfinished Revolution--And Why We Need It More Than Ever
Basic Books, 9780465083336, 304pp.
Publication Date: July 4, 2006
* Individual store prices may vary.
Description
In 1944, Franklin Delano Roosevelt gave a State of the Union Address that was arguably the greatest political speech of the twentieth century. In it, Roosevelt grappled with the definition of security in a democracy, concluding that "unless there is security here at home, there cannot be lasting peace in the world." To help ensure that security, he proposed a "Second Bill of Rights" -- economic rights that he saw as necessary to political freedom. Many of the great legislative achievements of the past sixty years stem from Roosevelt's vision. Using this speech as a launching point, Cass R. Sunstein shows how these rights are vital to the continuing security of our nation. This is an ambitious, sweeping book that argues for a new vision of FDR, of constitutional history, and our current political scene.
About the Author
Cass R. Sunstein is Karl N. Llewellyn Distinguished Service Professor of Jurisprudence at the University of Chicago Law School and a contributing editor at The New Republic and the American Prospect. He has testified before Congress on numerous occasions and has contributed as well to such publications as the New York Times, the Los Angeles Times, and the Washington Post. His numerous books include Republic.com, Risk and Reason, Laws of Fear, and The Second Bill of Rights. He lives in Chicago, Illinois.