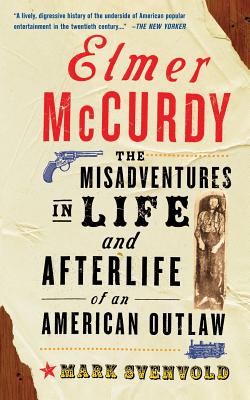 Elmer Mccurdy
The Life And Afterlife Of An American Outlaw
Paperback

* Individual store prices may vary.
Description
From Elmer McCurdy: The body was listed as "the Decedent," in official coroner's parlance Dead Body Case #7614812. Word soon got out about the fun-house mummy, about whom so little was known that the autopsy took on the character of an archaeological dig. The body looked like something pulled out of a peat bog, or an ice cave high in the Andes. The brain was mummified and like a rock, as were all the other organs.Late in the autopsy came the biggest surprise of all. Removing the jaw, the coroner pulled from the back of the mouth a single green corroded copper penny, dated 1924, and several ticket stubs, one that read "Louis Sonney's Museum of Crime, 524 South Main Street, Los Angeles." After all the careful speculation and surmise, after the body had been completely dismantled, the biggest clue to its identity came straight from the corpse's mouth. Praise for Mark Svenvold:"Mark Svenvold writes with the top down, and his sleek late-model imagination in fifth gear. Honk if you love first books that can cruise or race with full-throated elegance. Here's one!" -- J. D. McClatchy
Basic Books, 9780465083497, 336pp.
Publication Date: October 8, 2003
About the Author
Mark Svenvold has published two poetry collections. Soul Data, his second collection, won a Discovery/The Nation award in poetry. His nonfiction has appeared in Harper's Bazaar and elsewhere. He lives in New York City.