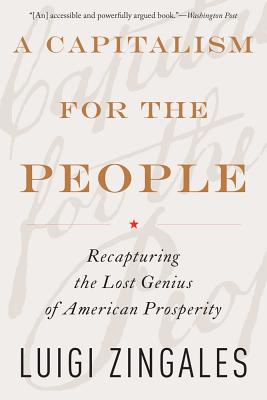 A Capitalism for the People (Paperback)
Recapturing the Lost Genius of American Prosperity
Basic Books, 9780465085958, 336pp.
Publication Date: February 11, 2014
Other Editions of This Title:
Hardcover (6/5/2012)
* Individual store prices may vary.
Description
When the Italian-born economist Luigi Zingales came to the United States in the 1980s, he embraced the American Dream: the belief that what brings you success is hard work, not luck or who you know. But the economic events of the past decade have put American capitalism in crisis. Now, living in America's heartland, Zingales warns in A Capitalism for the People that the U.S. economy risks deteriorating into a pro-business rather than pro-market system run by corrupt politicians. Presenting a real-world blueprint to restore true competition to our economic system, Zingales gives hope that the U.S. can rebound to greatness.

About the Author
Luigi Zingales is the Robert C. McCormack Professor of Entrepreneurship and Finance at the University of Chicago's Booth School of Business. The co-author of Saving Capitalism from the Capitalists and a contributing editor of City Journal, he lives in Chicago with his wife and children.

Praise For A Capitalism for the People: Recapturing the Lost Genius of American Prosperity…
Marginal Revolution, Tyler Cowen
"I know you have book fatigue, popular economics book fatigue, policy book fatigue, and books-with-subtitles-like-this fatigue, all at once. But this book is really, really good. It hits all the right notes, is clearly written, and refers to academics as the new crony capitalists. I agreed with almost all of it. If I had to pick out one book, of this entire lot of books, to explain what is going on right now to a popular audience of non-economists, this might well be it."
J. Bradford DeLong, University of California, Berkeley
"More than 30 years ago, Milton and Rose Director Friedman raised high the banner of small-government free-market libertarianism with their
Free to Choose
. Now, a generation later, income inequality is substantially higher, the globe is even more interconnected, and our partial financial deregulation has backfired badly. Luigi Zingales thus has a harder task as he tries to update the small-government free-market libertarian position for the 21st century. But he has done a very good job at it."
Robert J. Shiller, author of Finance and the Good Society

"This remarkably creative book, driven by a strong moral conviction, offers a bold array of ideas for us to ponder, so we can really make the American capitalist model work better for everyone."
Futures Magazine
"Luigi Zingales lays out the glaring defects that have come to corrode our current economic system in a very easy to understand picture.... Recommended reading for those interested in the evolving nature of our interconnected system of government and the economy."
Bloomberg View
"[F]ascinating.... Zingales provides an enormous service by laying out such persuasive evidence."
National Review Online
"[
A Capitalism for the People
] is the book that hits closest to the mark on the question of where the American center-right ought to go in the next few years."
Sacramento Bee
"Zingales offers more than rehashed Friedman or Hayek. It's a book that should appeal to tea partyers and the Occupy Wall Street crowd."
Publishers Weekly
"Zingales…presents a striking dichotomy.... Engaging."
Financial Times
"Zingales's fundamental diagnosis is right.... [T]his remains a stimulating essay on the nature of American capitalism and the issues that will determine the pace of America's relative decline."
N. Gregory Mankiw, Robert M. Beren Professor of Economics, Harvard University, and author of Principles of Economics

"
A Capitalism for the People
is a wise, deep, and timely book. With lively prose, Zingales diagnoses what is right and wrong with the U.S. economy. Whether your political sympathies lie with the Tea Party, Occupy Wall Street, or someplace in between, you will learn much about how we can best promote an economic future that works for all of us."
The Economist


"[A]n elegy to the America (Zingles) found when he moved here 24 years ago."

Washington Post
"[An] accessible and powerfully argued book."

John R. Talbott, Huffington Post
"[O]utstanding.... I give the book my ultimate compliment; it is so full of new and innovative ideas that it makes you pause and think on every page." National Review"[W]e are fortunate to have an Italian-born economist so powerfully and persuasively defending America's once exceptional free-enterprise system." Co.Exist, a blog of Fast Company "Zingales is readable, engaging, and full of insight. A Capitalism For The People is worth the time of anyone, left or right, who cares about the future of the American market system."

Edmund S. Phelps, Director, Center on Capitalism and Society, Columbia University
"In A Capitalism for the People, Luigi Zingales joins the small but influential group of economists who see that America's economy is now more and more corporatist, less and less capitalist. His impressive account of our downhill slide is enriched by his deep knowledge of the harm wrought by the worst excesses of Italian crony capitalism. A must-read."

Nell Minow, co-author of Corporate Governance and co-owner and board member of GMI Ratings
"An especially accessible and holistic assessment of what went wrong in our financial markets and an especially thoughtful and constructive proposal for the future.  Highly recommended!"

Paul Ryan, U.S. Congressman, Wisconsin
"In A Capitalism for the People, Luigi Zingales exposes the pernicious collusion of big business and big government – offering the sharp analytical perspective of a world-renowned economist and the unique personal perspective of an immigrant living the American Dream. This must-read for policymakers and citizens alike serves as a lucid call to action for rediscovering what makes America exceptional."