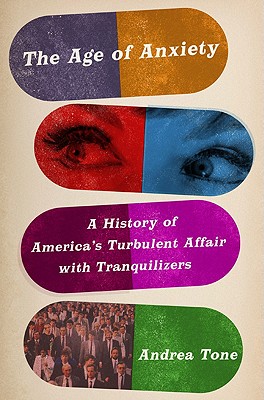 The Age of Anxiety: A History of America's Turbulent Affair with Tranquilizers (Hardcover)
A History of America's Turbulent Affair with Tranquilizers
Basic Books (AZ), 9780465086580, 298pp.
Publication Date: December 30, 2008
* Individual store prices may vary.
or
Not Currently Available for Direct Purchase
Description
Anxious Americans have increasingly pursued peace of mind through pills and prescriptions. In 2006, the National Institute of Mental Health estimated that 40 million adult Americans suffer from an anxiety disorder in any given year: more than double the number thought to have such a disorder in 2001. Anti-anxiety drugs are a billion-dollar business. Yet as recently as 1955, when the first tranquilizer--Miltown--went on the market, pharmaceutical executives worried that there wouldn't be interest in anxiety-relief. At mid-century, talk therapy remained the treatment of choice.
But Miltown became a sensation--the first psychotropic blockbuster in United States history. By 1957, Americans had filled 36 million prescriptions. Patients seeking made-to-order tranquility emptied drugstores, forcing pharmacists to post signs reading "more Miltown tomorrow." The drug's financial success and cultural impact revolutionized perceptions of anxiety and its treatment, inspiring the development of other lifestyle drugs including Valium and Prozac.
In The Age of Anxiety, Andrea Tone draws on a broad array of original sources--manufacturers' files, FDA reports, letters, government investigations, and interviews with inventors, physicians, patients, and activists--to provide the first comprehensive account of the rise of America's tranquilizer culture. She transports readers from the bomb shelters of the Cold War to the scientific optimism of the Baby Boomers, to the "just say no" Puritanism of the late 1970s and 1980s.
A vibrant history of America's long and turbulent affair with tranquilizers, The Age of Anxiety casts new light on what it has meant to seek synthetic solutions to everyday angst.
About the Author
Andrea Tone is Canada Research Chair in the Social History of Medicine at McGill University. She is the author of numerous articles and books including Devices and Desires: A History of Contraceptives in America, named one of the Best Books of 2001 by the Washington Post, and which inspired the Emmy Award-winning PBS documentary on the birth control pill. Devices and Desires received wide acclaim. The New York Times described it as "marvelously eye-opening" and American Scientist praised it as "remarkable...richly textured...[and] engaging to read." Her work has been featured on ABC, PBS, NPR, and the History Channel, and in the New York Times. She lives in Montreal.
Praise For The Age of Anxiety: A History of America's Turbulent Affair with Tranquilizers…
O magazine
"A fascinating history of our dependence on downers…. Thoughtful, timely, and evenhanded."

Kirkus
"Readable, informative account of how cultural, economic and political forces have shaped the way Americans address anxiety…. Untangles the variety of complex factors that have shaped Americans' increasing use of tranquilizers amid conflicting attitudes toward them."
New York Post
"Very accessible and well-researched."
Minneapolis Star-Tribune
"[A] lively and thoughtful history of tranquilizers…. [Tone] is a diligent researcher, and she deftly covers the tangle of historical, medical, legal and cultural issues here without lapsing into jargon – no easy feat with a subject like this."
Newsweek
"[A] smart and crisp history of American tranquilizer use."
New England Journal of Medicine
"A superb history that illustrates which cultural groups embraced tranquilizers, how these drugs were initially wildly popular but were subsequently rejected, and the rise of SSRIs as their replacements…. Informative and intriguing."
Bookforum
"Excellent book…. A strong historical account of the most important topic of our interior lives – and noninterior as well.... Great reporting and incisive treatment of the origins of the modern neurosis industry."
Reason magazine
"The Age of Anxiety, Andrea Tone's revelatory history of tranquilizers in America, complicates the usual tale of patriarchal oppression, in which greedy pharmaceutical companies profit by keeping housewives placid and subservient…. Without minimizing the hazards of tranquilizers, Tone suggests that the backlash against them has caused more harm than the uncritical embrace that preceded it. She also shows that a drug's reputation is a function of culture as much as chemistry."

The National Catholic Reporter 
"[A] captivating account of the development and use of medications in the treatment of anxiety in the United States…. [Tone] presents a carefully researched and thoughtful narrative…. The Age of Anxiety serves as a cautionary tale as to how social and political structures can overshadow scientific data in professional and public discourse about medical treatments."
Advertisement