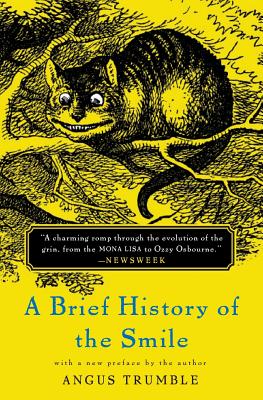 A Brief History of the Smile (Paperback)
Basic Books, 9780465087792, 288pp.
Publication Date: February 2, 2005
* Individual store prices may vary.
Description
Every smile is the product of physical processes common to all humans. But since the dawn of civilization, the upward movement of the muscles of the face has carried a bewildering range of meanings. Supreme enlightenment is reflected in the holy smile of the Buddha, yet the Victorians thought of open-mouthed smiling as obscene, and nineteenth-century English and American slang equated "smiling" with drinking whisky.In A Brief History of the Smile, Angus Trumble deftly combines art, poetry, history, and biology into an intriguing portrait of the many nuances of the smile. Elegantly illustrating his points with emblematic works of art, from eighteenth- and nineteenth-century European paintings to Japanese woodblock prints, Trumble explores the meanings of smiling in a variety of cultures and contexts. Effortlessly mingling erudition, wit, and personal anecdote, Trumble weaves a seamless interdisciplinary tapestry, bringing his expertise as a writer, historian, and thinker to bear on the art of smiling in this warm and perceptive work.
About the Author
Angus Trumble is a graduate of the University of Melbourne and of New York University's Institute of Fine Arts. He has worked for Christie's in New York, and has been curator of European paintings and sculpture at the Art Gallery of South Australia in Adelaide. He is currently curator of paintings and sculpture at the Yale Center for British Art. He has written seven books, and lives in New Haven, Connecticut.
or
Not Currently Available for Direct Purchase