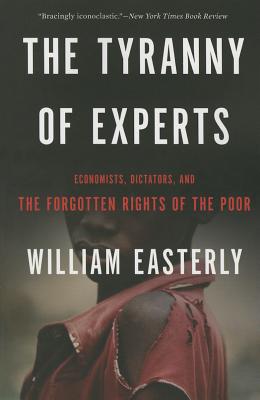 The Tyranny of Experts (Paperback)
Economists, Dictators, and the Forgotten Rights of the Poor
Basic Books, 9780465089734, 416pp.
Publication Date: March 24, 2015
Other Editions of This Title:
Digital Audiobook (10/23/2014)
MP3 CD (3/24/2015)
* Individual store prices may vary.
Description
A "bracingly iconoclastic" (New York Times) critique of global development that points a way toward respect for the poor and an end to global poverty
Over the last century, global poverty has largely been viewed as a technical problem that requires the right "expert" solution. Yet all too often, experts fix immediate problems without addressing the systematic oppression that created them. In The Tyranny of Experts, renowned economist William Easterly argues that the expert-approved, authoritarian approach to development has not only made little lasting progress, but has proven a convenient rationale for generations of human rights violations. Although aid agencies, such as the World Bank and the Gates Foundation, are still regarded as both well-meaning and effective, they're founded on the mistaken belief that wise technocrats from the West will be the saviors of helpless victims from the rest.
This revised edition comes at a time of even greater peril for freedom worldwide. Easterly brings in new research that carries his masterful critiques into the present. He reveals the fundamental errors inherent in the long-celebrated top-down approach and offers a new model for developing countries-a model predicated on respect for the rights of poor people-with the power to end global poverty.
About the Author
William Easterly is professor of economics at New York University and codirector of the NYU Development Research Institute. He is the author of several books on global politics and economics, including The White Man's Burden: Why the West's Efforts to Aid the Rest Have Done So Much Ill and So Little Good (winner of the Hayek Prize). His writing has appeared in the New York Times, Wall Street Journal, Financial Times, New York Review of Books, and Washington Post. Foreign Policy magazine named him among the Top 100 Public Intellectuals. He lives in New York City.
Praise For The Tyranny of Experts: Economists, Dictators, and the Forgotten Rights of the Poor…
"A provocative book
that will rile the development world.... A timely blast against the complacency
of those who think progress and prosperity can be detached from politics."—Guardian (UK)

"Easterly's message
is simple: Before you offer a helping hand, look hard at the core beliefs that
brought you good fortune."—Washington Post

"There is something indomitable about William
Easterly, and he has struck the development establishment where it is weakest:
its appalling human rights record."—Los Angeles Times Book Review

"Easterly is one of the most consistently interesting and provocative
thinkers on development."—Bloomberg View

"Thought provoking."—Economist

"This powerful polemic against top-down aid projects convinces."—Times of London (UK)

"A passionate, if fitful, argument against the conventional approach to
economic development."—Washington Post

"Easterly has written a book that grabs a reader's
attention from the first sentence.... Highly recommended."—Choice

"Fascinating."—Lancet

"The Tyranny of Experts is intellectual comfort food for
people ... who are skeptical of the idea that the only things standing between us
and a world free of poverty are insufficient funding and political will."—Cato Institute's Regulation

"Easterly delivers a scathing assault on the anti-poverty programs
associated with both the United Nations and its political and private sector
supporters.... A sharply written polemic intended to stir up debate about the
aims of global anti-poverty campaigns"—Kirkus

"Easterly's research may help start a dialog about identifying better
methods for alleviating global poverty and should assist readers interested in
humanitarian efforts who want to draw their own conclusions about how to aid
the world's poor."—Library Journal
or
Not Currently Available for Direct Purchase