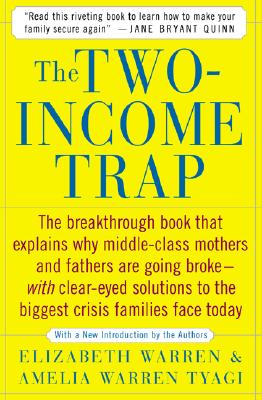 The Two-Income Trap
Why Middle-Class Parents Are Going Broke
Paperback

* Individual store prices may vary.
Other Editions of This Title:
Paperback (4/12/2016)
Description
In this revolutionary expose, Harvard Law School bankruptcy expert Elizabeth Warren and financial consultant Amelia Tyagi show that today's middle-class parents are increasingly trapped by financial meltdowns. Astonishingly, sending mothers to work has made families more vulnerable to financial disaster than ever before. Today's two-income family earns 75% more money than its single-income counterpart of a generation ago, but has 25% less discretionary income to cover living costs. This is "the rare financial book that sidesteps accusations of individual wastefulness to focus on institutional changes," raved the Boston Globe. Warren and Tyagi reveal how the ferocious bidding war for housing and education has silently engulfed America's suburbs, driving up the cost of keeping families in the middle class. The authors show why the usual remedies-child-support enforcement, subsidized daycare, and higher salaries for women-won't solve the problem. But as the Wall Street Journal observed, "The book is brimming with proposed solutions to the nail-biting anxiety that the middle class finds itself in: subsidized day care, school vouchers, new bank regulation, among other measures." From Senator Edward M. Kennedy to Dr. Phil to Bill Moyers, The Two-Income Trap has created a sensation among economists, politicians, and families-all those who care about America's middle-class crisis.
Basic Books, 9780465090907, 272pp.
Publication Date: August 1, 2004
About the Author
Elizabeth Warren is the Leo Gottlieb Professor of Law at Harvard Law School. She is the co-author of As We Forgive Our Debtors and The Fragile Middle Class, as well as three leading commercial law casebooks. She is vice-president of the American Law Institute, and served as Chief Advisor to the National Bankruptcy Review Commission. She lives in Cambridge, Massachusetts. Amelia Warren Tyagi has worked as an Engagement Manager with McKinsey and Company, specializing in health care, insurance, and education, and she co-founded the successful healthcare start-up HealthAllies. She lives in Pacific Palisades, California, with her husband and two-year-old daughter, Octavia.
or
Not Currently Available for Direct Purchase