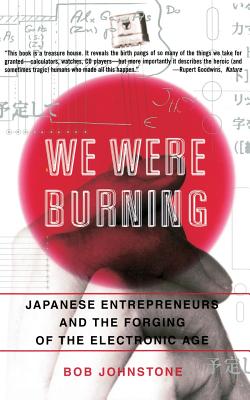 We Were Burning
Japanese Entrepreneurs And The Forging Of The Electronic Age
Paperback

* Individual store prices may vary.
Description
Are the Japanese faceless clones who march in lockstep to the drums beaten by big business and the bureaucrats of MITI, Japan's miracle-working ministry of international trade and industry? Can Japanese workers, and by extrapolation their entire society, be characterized by deference to authority, devotion to group solidarity, and management by consensus? In We Were Burning, investigative journalist Bob Johnstone demolishes this misleading stereotype by introducing us to a new and very different kind of Japanese worker-a dynamic, iconoclastic, risk-taking entrepreneur.Johnstone has tracked down Japan's invisible entrepreneurs and persuaded them to tell their stories. He presents here a wealth of new material, including interviews with key players past and present, which lifts the veil that has hitherto obscured the entrepreneurial nature of Japanese companies like Canon, Casio, Seiko, Sharp, and Yamaha.Japanese entrepreneurs, working in the consumer electronics industry during the 1960s and 70s, took unheralded American inventions such as microchip cameras, liquid crystal displays, semiconductor lasers, and sound chips to create products that have become indispensable, including digital calculators and watches, synthesizers, camcorders, and compact disc players. Johnstone follows a dozen micro-electronic technologies from the U.S. labs where they originated to their eventual appearance in the form of Japanese products, shedding new light on the transnational nature of twentieth-century innovation, and on why technologies take root and flourish in some places and not in others.At this time of Asian financial crisis and the bursting of Japan's bubble economy, many are tempted to dismiss Japan's future as an economic power. We Were Burning serves as a timely warning that to write off Japan—and its invisible entrepreneurs—would be a big mistake.
Basic Books, 9780465091188, 448pp.
Publication Date: September 24, 1999
About the Author
Bob Johnstone is a freelance journalist who has written about science and technology for fifteen years. He has served as Japan correspondent for New Scientist, technology correspondent for Far Eastern Economic Review, and has been a contributing editor and writer for Wired. He was a Knight Science Journalism Fellow at the Massachusetts Institute of Technology in 1991 and was the recipient of an Abe Foundation Program grant.