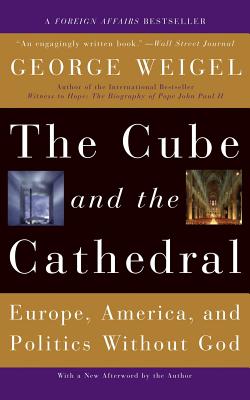 The Cube and the Cathedral
Europe, America, and Politics Without God
Paperback

* Individual store prices may vary.
Description
Why do Europeans and Americans see the world so differently? Why do Europeans and Americans have such different understandings of democracy and its discontents in the twenty-first century? Contrasting the civilization that produced the starkly modernist "cube" of the Great Arch of La Defense in Paris with the civilization that produced the "cathedral" of Notre-Dame, George Weigel argues that Europe's embrace of a narrow secularism has led to a crisis of morale that is eroding Europe's soul and threatening its future -- with dire lessons for the rest of the democratic world. Weigel traces the origins of "Europe's problem" to the atheistic humanism of the nineteenth-century European intellectual life, which set in motion a historical process that produced two world wars, three totalitarian systems, the Gulag, Auschwitz, the Cold War -- and, most ominously, the Continent's de-population, which is worse today than during the Black Death. And yet, many Europeans still insist -- most recently, during the debate over a new EU constitution -- that only a public square shorn of religiously-informed moral argument is safe for human rights and democracy. Precisely the opposite, Weigel suggests, is true: the people of the "cathedral" can give a compelling account of their commitment to everyone's freedom; the people of the "cube" cannot. Can there be any true "politics" -- any true deliberation about the common good, and any robust defense of freedom -- without God? George Weigel makes a powerful case that the answer is "No," because, in the final analysis, societies are only as great as their spiritual aspirations.
Basic Books, 9780465092680, 224pp.
Publication Date: February 28, 2006
About the Author
George Weigel is distinguished senior fellow of Washington's Ethics and Public Policy Center and one of America's leading public intellectuals. The first volume of his biography of Pope John Paul II, Witness to Hope, was a New York Times bestseller, and his writing appears regularly in a variety of publications, including the Wall Street Journal. He lives in North Bethesda, Maryland.