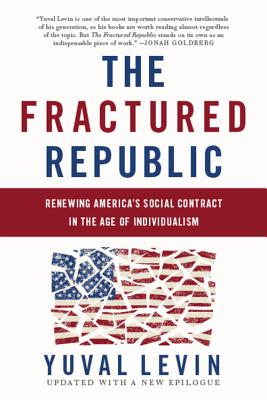 The Fractured Republic (Paperback)
Renewing America's Social Contract in the Age of Individualism
Basic Books, 9780465093243, 288pp.
Publication Date: May 23, 2017
Other Editions of This Title:
Hardcover (5/24/2016)
Compact Disc (8/23/2016)
Compact Disc (8/23/2016)
* Individual store prices may vary.
Description
A National Review Best Book of the Year
Americans today are anxious--about the economy, about politics, about our government. The institutions that once dominated our culture have become smaller, more diverse, and personalized. Individualism has come at the cost of dwindling solidarity. No wonder, then, that voters and politicians alike are nostalgic for a time of social cohesion and economic success.
But the policies of the past are inadequate to the America of today. Both parties are stuck presenting old solutions to new problems. In The Fractured Republic, Yuval Levin details his innovative answers to the dysfunctions of our fragmented national life. By embracing subsidiarity and diversity and rejecting extremism and nostalgia, he believes we can revive the middle layers of society and enable an American revival.
Updated with a new epilogue, Levin helps us navigate our fraught political waters.
About the Author
Yuval Levin is the Hertog Fellow at the Ethics and Public Policy Center and the founder and editor of National Affairs. He is a former White House and congressional staffer and a contributing editor to National Review and the Weekly Standard. He lives in Maryland.
Praise For The Fractured Republic: Renewing America's Social Contract in the Age of Individualism…
"Yuval Levin is one of the most important conservative intellectuals of his generation, so his books are worth reading almost regardless of the topic. But The Fractured Republic stands on its own as an indispensable piece of work."—Jonah Goldberg

"A rich, nuanced history of the last 70 years... The Fractured Republic is an invaluable resource for understanding how America came to its present predicament and what must be done to rescue it."—Charles Murray, National Review

"Should be required reading for all those trying to understand contemporary America."—Financial Times

"Mr. Levin has done conservatism a service by reining in nostalgia. His writing is precise, well-observed and witty in a sober sort of way."—The Economist

"Mr. Levin is among the Republican Party's great intellectual leaders and has proposed a new direction for conservatism. We'll soon learn whether the party's political leaders follow his wise advice."—J.D. Vance, Wall Street Journal

"Useful in helping us understand why conservative intellectuals have been so intensely opposed to Donald Trump."—New York Times Book Review

"A devastating indictment of the welfare state and a good primer for effective conservative policymaking in the future."—Tevi Troy, National Review Online