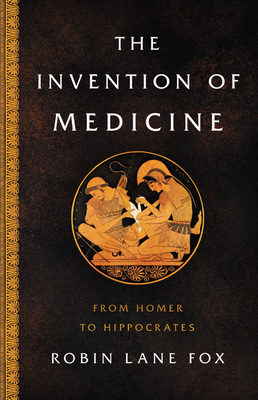 The Invention of Medicine
From Homer to Hippocrates
Hardcover

* Individual store prices may vary.
Description
A preeminent classics scholar revises the history of medicine.
Medical thinking and observation were radically changed by the ancient Greeks, one of their great legacies to the world. In the fifth century BCE, a Greek doctor put forward his clinical observations of individual men, women, and children in a collection of case histories known as the Epidemics. Among his working principles was the famous maxim "Do no harm." In The Invention of Medicine, acclaimed historian Robin Lane Fox puts these remarkable works in a wider context and upends our understanding of medical history by establishing that they were written much earlier than previously thought. Lane Fox endorses the ancient Greeks' view that their texts' author, not named, was none other than the father of medicine, the great Hippocrates himself. Lane Fox's argument changes our sense of the development of scientific and rational thinking in Western culture, and he explores the consequences for Greek artists, dramatists and the first writers of history. Hippocrates emerges as a key figure in the crucial change from an archaic to a classical world.
Elegantly written and remarkably learned, The Invention of Medicine is a groundbreaking reassessment of many aspects of Greek culture and city life.
Praise For The Invention of Medicine: From Homer to Hippocrates…
"[An] excavation of the early, groping history of medicine as a craft.... Thanks to Lane Fox's patient scholarship, we feel like we're visiting dozens of sickbeds and holding the hands of dozens of frightened people.... The Invention of Medicine takes readers back to a world ruled by the 'three great killers'—tuberculosis, malaria, and typhoid—and, in addition to its more abstruse arguments, it brings the human dimensions of that world alive."—Boston Globe

"Lane Fox leads us down intriguing paths of epigraphy, political history, philology and archaeology."—London Review of Books

"The Invention of Medicine places common people and their unremarkable illnesses centerstage in the intellectual revolutions of the Classical world.... A kind of archival contact tracing...oriented toward proof positive of one man, Hippocrates."—Forbes

"Engaging....A vivid
ride through a part of Greece little visited."—Financial Times

"This enlightened history of medicine traces our conceptual shift from the divine fatalism of Homer to the heightened empiricism of the medical (and historical) profession."—Air Mail, "10 Best Books of 2021"

"Thrillingly accessible.... With his customary eye for telling detail and the experiences of 'ordinary' people more than two millennia ago, [Lane Fox] introduces his reader to dozens of real medical case histories.... Lane Fox brings the ancient Greeks to life as few other public-facing scholars can. Anyone interested in medicine, science, philosophy or classics will...admire [his] panache and erudite mastery of sources."—Literary Review (UK)

"The Invention of Medicine has pleasures for the classicist, medic, and lay reader."—Air Mail

"A peek inside the world of a scholar whose depth of knowledge of Greek history and culture sets the standard for scholars in any field."—Roanoke Times

"Searching, lucid, and challenging, Fox presents a vivid picture of Hippocratic creativity."—Kirkus, starred review

"Fox, in his characteristic thoughtfully argumentative and practical style, sifts through centuries of epigraphic, numismatic, and archaeological evidence to place the so-called Epidemic texts in a new context….Timely and important."—Library Journal, starred review

"By combining the study of the Epidemics with archeological and epigraphical data of Thasos, Lane Fox gives a new and enlightening reading of these very interesting -- yet generally little known -- Hippocratic texts. His approach, which integrates local history and comparative analysis with Greece and beyond it, makes this study innovative and groundbreaking. This will become a fundamental reading for anyone interested in the Epidemics and in Hippocratic medicine in general."—Francesca Schironi, professor of Classical Studies, University of Michigan

"'Man has devised escapes from diseases hard to escape,' claimed Sophocles: this was the result not of technological advances, but of the conceptual revolution effected by travelling doctors such as the unknown master-diagnostician, perhaps Hippocrates himself, who left detailed, terse observations of disease and its progress from a four-year stay in the island-city of Thasos around 470 BCE. Robin Lane Fox explores his notes, and those of his successors, to take us around the streets and spaces of the great city. The end result is a coruscating combination of learning, archaeology, bold imagination, and sympathy for both the doctor's penetrating medical mind and his patients."—John Ma, Columbia University
Basic Books, 9780465093441, 432pp.
Publication Date: December 8, 2020
About the Author
Robin Lane Fox is an emeritus fellow at New College, Oxford. He's the author of many books on ancient and classical history, including Augustine, Alexander the Great, and The Classical World, which was named one of the Top Ten Nonfiction Books of 2006 by the Washington Post Book World. He lives in Oxford, England.