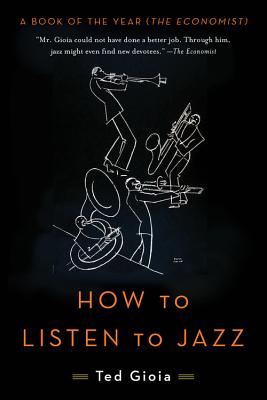 How to Listen to Jazz (Paperback)
Basic Books, 9780465093496, 272pp.
Publication Date: September 19, 2017
Description

An Economist Best Book of the Year "A radiantly accomplished writer . . . Gioia conveys his passion for the music with vivid description and shrewd judgements."-Wall Street Journal

In How to Listen to Jazz, award-winning music scholar Ted Gioia presents a lively introduction to the art of listening to jazz. He tells us what to listen for in a performance and includes a guide to today's leading jazz musicians. From Louis Armstrong's innovative sounds to the exotic compositions of Duke Ellington, Gioia covers everything from the music's history to the building blocks of improvisation. A true love letter to jazz by a foremost expert, How to Listen to Jazz is a must-read for anyone who's ever wanted to understand America's greatest contribution to music. "Gioia could not have done a better job. Through him, jazz might even find new devotees."-Economist "How to Listen to Jazz is a packed and useful introduction to the medium. . . . You feel you are in good hands."-Weekly Standard
About the Author
Ted Gioia is a jazz pianist and an award-winning music historian. The author of ten books, Gioia is currently a columnist for the Daily Beast.
Advertisement