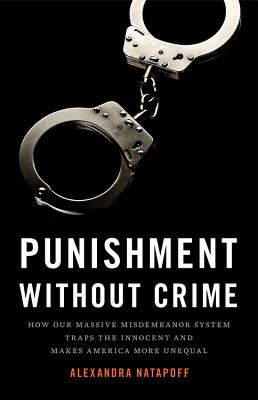 Punishment Without Crime
How Our Massive Misdemeanor System Traps the Innocent and Makes America More Unequal
Hardcover

* Individual store prices may vary.
Description
A revelatory account of the misdemeanor machine that unjustly brands millions of Americans as criminals.

Punishment Without Crime offers an urgent new interpretation of inequality and injustice in America by examining the paradigmatic American offense: the lowly misdemeanor. Based on extensive original research, legal scholar Alexandra Natapoff reveals the inner workings of a massive petty offense system that produces over 13 million cases each year. People arrested for minor crimes are swept through courts where defendants often lack lawyers, judges process cases in mere minutes, and nearly everyone pleads guilty. This misdemeanor machine starts punishing people long before they are convicted; it punishes the innocent; and it punishes conduct that never should have been a crime. As a result, vast numbers of Americans -- most of them poor and people of color -- are stigmatized as criminals, impoverished through fines and fees, and stripped of drivers' licenses, jobs, and housing.

For too long, misdemeanors have been ignored. But they are crucial to understanding our punitive criminal system and our widening economic and racial divides.

A Publishers Weekly Best Book of 2018
Praise For Punishment Without Crime: How Our Massive Misdemeanor System Traps the Innocent and Makes America More Unequal…
"A sweeping look at the misdemeanor system and its impact on the American people.... Misdemeanor courts wield the bluntest, dumbest and cruelest instruments of the justice system, a host of biased codes called 'order-maintenance' crimes. What Punishment Without Crime makes clear is whose order, exactly, is being maintained."—Paste

"An essential contribution to the fields of criminology and sociology."—CHOICE

"Intelligently written, tightly argued, and often heartbreaking, Natapoff's account is a worthy companion to Michelle Alexander's The New Jim Crow."—Publishers Weekly (starred review)

"Natapoff's presentation of her meticulously researched data is impressive...A searing, groundbreaking study of criminology and sociology."—Kirkus Reviews (starred review)

"This important book completely upends the criminal justice conversation. Natapoff documents dark truths about the misdemeanor process-how it forces the innocent to plead guilty, how it disregards basic legal rights, and how it inflicts deep injustice. Her insights inspire both outrage and innovation. Punishment Without Crime provides a terrific new understanding of a flawed criminal system, and it offers a much-needed path toward the fair and just criminal system America deserves. A necessary book for our times."—Barry Scheck, cofounder of theInnocence Project

"Punishment Without Crime is a searing indictment of our petty offense system. Through meticulous original research, heartbreaking stories, and pioneering insights, Alexandra Natapoff's book is a masterful critique of an overlooked but essential component of our criminal justice system's punitive machinery. Her account exposes how race and poverty intersect within the misdemeanor system to punish the innocent; create, perpetuate, and reinforce racial inequities; and fuel mass incarceration. Accessible, powerful, and illuminating, Punishment Without Crime will become essential to all future discussions of the criminal justice system's role in shaping the racial and social order of our nation."—L. Song Richardson, dean and chancellor's professor of law, Universityof California, Irvine School of Law

"This is an indispensable book for understanding the real American criminal courts-emphatically not the version familiar from film and television. The millions processed through our misdemeanor courts every year-overwhelmingly poor and people of color-rarely receive anything like procedural justice and often are burdened with stigma and harsh collateral consequences that lock them into disadvantage. Understanding and repairing this broken system is of the utmost importance if we want to be able to call our criminal courts a system of justice."—Carol S. Steiker, Henry J. Friendly Professor of Law and codirector ofthe Criminal Justice Policy Program, Harvard Law School
Basic Books, 9780465093793, 352pp.
Publication Date: December 31, 2018
About the Author
Alexandra Natapoff is professor of law at the University of California, Irvine. A 2016 Guggenheim Fellow, she is also the author of Snitching: Criminal Informants and the Erosion of American Justice, which won the 2010 ABA Silver Gavel Award Honorable Mention for Books. She lives in Irvine, California.
Coverage from NPR