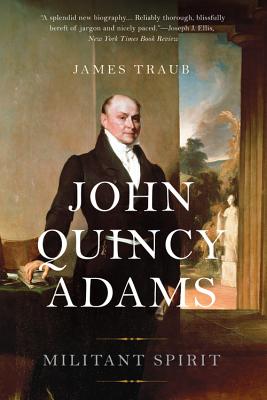 John Quincy Adams (Paperback)
Militant Spirit
Basic Books, 9780465093830, 656pp.
Publication Date: October 10, 2017
Other Editions of This Title:
Hardcover (3/22/2016)
MP3 CD (2/7/2017)
* Individual store prices may vary.
Description
A penetrating, lyrical biography of John Quincy Adams, the President and politician whose experiences spanned--and shaped--the most critical period in our nation's history

Few figures in American history have held as many roles in public life as John Quincy Adams. The son of John Adams, he was a brilliant ambassador and secretary of state, a frustrated president, and a dedicated congressman who staunchly opposed slavery. In John Quincy Adams, scholar and journalist James Traub draws on Adams's diaries, letters, and writings to evoke his numerous achievements--and failures--in office. A man of unwavering moral convictions, Adams is the father of foreign policy "realism" and one of the first proponents of the "activist government." But John Quincy Adams is first and foremost the story of a brilliant, flinty, and unyielding man whose life exemplified admirable political courage.

About the Author
James Traub is a columnist and a regular contributor at ForeignPolicy.com and teaches foreign policy at New York University. He lives in New York City.


Praise For John Quincy Adams: Militant Spirit…
"A splendid new biography.... Reliably thorough, blissfully bereft of jargon, and nicely paced."—Joseph J. Ellis, New York Times Book Review

"James Traub does justice to both the man and his times, with a historian's sense of complexity and a writer's eye for drama and detail."—Sean Wilentz

"By rights, John Quincy Adams should be one of
America's most famous presidents. His life story is remarkable, the son of one
of the nation's founding presidents, the only one to serve in an elected office
after leaving the White House, and a man of vast intelligence and political
courage who died while debating in the House of Representatives. Yet he's an
obscure figure. James Traub has
rectified this in a book worthy of its subject."—Fareed Zakaria, Fareed Zakaria GPS

"Traub's
work is a reminder to Americans that politicians can be devoted to national
issues, promote their principles, and still maintain their integrity."—Choice

"Well-written and highly
readable biography...highly accessible work."—Chronicles

"[An] excellent biography....
[John Quincy Adams'] life is worth meditating on, and Traub's biography is an
indispensable resource for doing so."—Washington Free Beacon

"James Traub has admirably
captured the man inside the public figure, giving us a view of a typical New
England grandee, puritanical at his core, molded as a traditionalist republican
with no love for pure democracy, convinced that governing was intended for the
class born and bred for it."—The Arts Fuse

"Traub thoroughly, even quite
engagingly, follows Adams through the years during which he served in the
diplomatic corps, building up the reputation as the new republic's best
representative abroad."—Booklist, starred review

"[An] essential biography of
a complex man.... Traub shows that without imperiling national unity, Adams's
persistent, perspicacious opposition to slavery 'shattered the overweening confidence
of the South' and confirmed his place in America's history."—Publishers Weekly, starred review

"Traub depicts a fully
fleshed character, an extraordinary man driven by his birthright principles, a
voluminous diarist, scholar, poet, polymath, eccentric, and iconoclast. The
author also offers a masterly portrait of Adams' wife, Louisa. An impassioned
biography of 'a coherent and consistent thinker who adhered to his core
political convictions across his decades of public service.'"—Kirkus

"James Traub's new biography
of John Quincy Adams is exceptionally strong. Adams was a complicated hero, a
patrician visionary but also, as Traub puts it, a militant spirit, one of the
most important diplomats in all of American history and, finally, slavery's
greatest enemy in American politics."—Sean Wilentz, author of The Rise of American Democracy: Jefferson to Lincoln

"John Quincy Adams was a
great statesman and a heroic crusader for freedom, whose finest hours,
ironically, came both before and after his time as president. James Traub does
us a service by bringing him to life again for a new generation. With a
journalist's touch, Traub paints a vivid portrait of the man in all his
complexity."—Robert Kagan, author of Of Paradise and Power

"In lucid prose and with
canny insight, James Traub illuminates the life and political career of John
Quincy Adams. Driven by grim purpose and consistent values, Adams was hard to
love but demanded respect as he matured into a champion of liberty for all.
Traub admires Adams [and is] tinged with sadness for the absence of his type in
our own times."—Alan Taylor, author of The Internal Enemy: Slavery and War in Virginia, 1772-1832