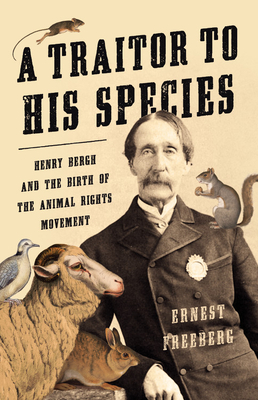 A Traitor to His Species
Henry Bergh and the Birth of the Animal Rights Movement
Hardcover

* Individual store prices may vary.
Description
From an award-winning historian, the outlandish story of the man who gave rights to animals.
In Gilded Age America, people and animals lived cheek-by-jowl in environments that were dirty and dangerous to man and beast alike. The industrial city brought suffering, but it also inspired a compassion for animals that fueled a controversial anti-cruelty movement. From the center of these debates, Henry Bergh launched a shocking campaign to grant rights to animals.
A Traitor to His Species is revelatory social history, awash with colorful characters. Cheered on by thousands of men and women who joined his cause, Bergh fought with robber barons, Five Points gangs, and legendary impresario P.T. Barnum, as they pushed for new laws to protect trolley horses, livestock, stray dogs, and other animals.
Raucous and entertaining, A Traitor to His Species tells the story of a remarkable man who gave voice to the voiceless and shaped our modern relationship with animals.

Praise For A Traitor to His Species: Henry Bergh and the Birth of the Animal Rights Movement…
"Vivid and often wrenching... A Traitor to His Species is not a conventional biography, intriguing as its central figure is. The book is above all a compassionate, highly readable account of the 19th-century plight of animals, especially urban animals -- and of those who tried to come to their rescue."—New York Times

"Vivid... The narrative's pace never slackens. Expansive yet carefully documented, Mr. Freeberg's book is less the biography of a man than of a noble effort that eventually spanned the nation. A Traitor to His Species isn't primarily about animals or their rights. Instead, as articulated in Mr. Freeberg's clear-eyed conclusion, this is a book about us, about the searing truth that how we choose to treat animals reveals what kinds of humans we are."
—Wall Street Journal

"Freeberg marshals a wealth of detail in tracking Bergh's campaigns and paints a vivid picture of Gilded Age America. Animal lovers and history buffs will savor this immersive account."—Publishers Weekly

"Freeberg's well-written biography benefits from detailed descriptions of the situations and conditions that inspired Henry Bergh to act. A Traitor to his Species is a good read, making a fresh case for Bergh's genius at using the media of the day to advance public awareness and debate over animal welfare in a world that lived close to animals and relied on their bodies for labor and raw materials as well as food."—Katherine C. Grier, author of Pets in America: A History

"Vivid... A successful effort to make a splendid American crusader better known."—Kirkus (starred review)

"In his lively treatment, Freeberg offers a thorough and human portrait of the ASPCA's founder, Henry Bergh, presenting the strongest possible case for his courage, resilience and tenacity. In bringing back to life Bergh's fabled battles, Freeberg provides both context and evidence for Bergh's prominence as a leader of the nascent animal protection movement, one of America's most significant post-Civil War reforms."—Bernard Unti , Humane Society of the United States
Basic Books, 9780465093861, 336pp.
Publication Date: September 22, 2020
About the Author
Ernest Freeberg is a distinguished professor of humanities and head of the history department at the University of Tennessee. He has authored three award-winning books, including The Age of Edison. He lives in Knoxville, Tennessee.