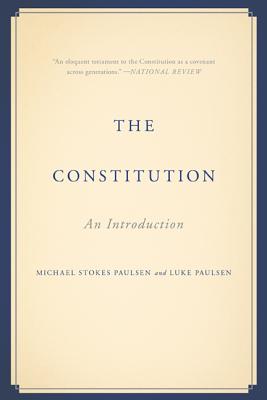 The Constitution (Paperback)
An Introduction
Basic Books, 9780465094103, 384pp.
Publication Date: January 3, 2017
Other Editions of This Title:
Digital Audiobook (4/30/2015)
Hardcover (5/5/2015)
Compact Disc (11/3/2015)
* Individual store prices may vary.
Description
From war powers to health care, freedom of speech to gun ownership, religious liberty to abortion, practically every aspect of American life is shaped by the Constitution. This vital document, along with its history of political and judicial interpretation, governs our individual lives and the life of our nation. Yet most of us know surprisingly little about the Constitution itself, and are woefully unprepared to think for ourselves about recent developments in its long and storied history.

The Constitution: An Introduction is the definitive modern primer on the US Constitution. Michael Stokes Paulsen, one of the nation's most provocative and accomplished scholars of the Constitution, and his son Luke Paulsen, a gifted young writer and lay scholar, have combined to write a lively introduction to the supreme law of the United States, covering the Constitution's history and meaning in clear, accessible terms.

Beginning with the Constitution's birth in 1787, Paulsen and Paulsen offer a grand tour of its provisions, principles, and interpretation, introducing readers to the characters and controversies that have shaped the Constitution in the 200-plus years since its creation. Along the way, the authors provide correctives to the shallow myths and partial truths that pervade so much popular treatment of the Constitution, from school textbooks to media accounts of today's controversies, and offer powerful insights into the Constitution's true meaning.

A lucid and engaging guide, The Constitution: An Introduction provides readers with the tools to think critically and independently about constitutional issues -- a skill that is ever more essential to the continued flourishing of American democracy.
About the Author
Michael Stokes Paulsen is Distinguished University Chair and Professor of Law at the University of St. Thomas, in Minneapolis, Minnesota. A graduate of Northwestern University and Yale Law School, he is author of two books and more than ninety articles on various topics of constitutional law.

Luke Paulsen is a graduate of Princeton University, where he majored in Computer Science with minors in Classics and Humanities. He currently works as a software engineer in Mountain View, California. The Constitution is his first book.
Praise For The Constitution: An Introduction…
"A solid, intelligent, reliable, and interesting look at the origins of the Constitution, its basic structure, and its interpretation over the course of our country's history. The Paulsens' book does not tell Americans what to think, but it provides invaluable help as they think for themselves."—
Justice Samuel Alito
"A clear, concise reader-friendly book.... A fascinating journey through American history."—
Roanoke Times
"Easily accessible and remarkably free of polemic... a most pleasant exercise."
—
Washington Lawyer
"A sharp, efficient guide to the creation, content, and construction of the supreme law of the land. A well-conceived, well-executed primer."—
Kirkus Reviews
"An uncomplicated but sophisticated primer.... [Paulsen and Paulsen] cover the basics well, with thoughtful interpretations of groundbreaking opinions on the free speech guarantee of the First Amendment, the abortion rights case Roe v. Wade, and the 14th Amendment.... This is a useful, accessible, and pertinent overview that is well seasoned with opinion."—
Publishers Weekly
"This impressive book by the father-son duo of Michael Stokes Paulsen and Luke Paulsen...is in its own way an eloquent testament to the Constitution as a covenant across generations. The Paulsens provide a lively and informed overview of how the Constitution has played out over our nation's history. They take positions--often firmly, sometimes less so--on a host of constitutional cases and questions. But [they] seek to spur conversations about the Constitution, not to end them."—
National Review
"This readable history of the Constitution as it has evolved over more than two centuries corrects many false beliefs about that document and its applicability to every corner of American life. Written in a style that makes it accessible to readers at several levels, this book tells the human story of the ways in which the world's oldest written constitution has shaped our experience."—
James M. McPherson
,
Professor of History Emeritus, Princeton University, and Pulitzer Prize-winning author of Battle Cry of Freedom
"
The Constitution: An Introduction
is packed both with essential information and discerning analysis. More than that, it reads like a novel-adventure story. It will make a great text in any number of classes."—
Stanley Fish, Distinguished Visiting Professor, Yeshiva University
"Michael and Luke Paulsen have written the most readable and insightful introduction to the U.S. Constitution since the days of Supreme Court Justice Joseph Story, in 1840. This book is a must read for anyone trying to learn about the U.S. Constitution."—
Steven G. Calabresi, Clayton and Henry Barber Professor of Law, Northwestern University
"Short but layered. [
The Constitution
] displays a professor's insights and a recent college graduate's sense for the lay reader's needs. It tells good stories at a fast clip in limpid prose...the book's greatest achievement is preternaturally good discretion in distilling hundreds of cases and copious scholarship and centuries of good stories to tell. [This] isn't just our Constitution's best short introduction; it might help make our civic culture at once more sober and more hopeful."—
First Things
"A nice balance of history, commentary, and discussion over the complexities of understanding the US Constitution and Bill of Rights from their British origins to the present. Excellent for collections on US history, law, and politics."—
CHOICE
"A commentary on the Constitution that may be profitably read by experts and non-experts alike. It is at once intellectually sophisticated without being pedantic, and comprehensible to lay readers without demeaning their intelligence. The Paulsens have accomplished what legions of professors have failed to do, and in truth have scarcely even tried to do: they explain in 300 gracefully written pages the origins, structure, operations, and political development of the United States Constitution."—
Claremont Review of Books
"A splendid introduction to the Constitution--one that takes the text of our nation's charter seriously and provides illuminating explanations of why its drafters chose the principles, concepts, and language they did for their 'great experiment' in republican government and ordered liberty.
The Constitution: An Introduction
strips away the layers of interpretation that obscure the Constitution's meaning, enabling readers to encounter the Constitution itself."—
Robert P. George, McCormick Professor of Jurisprudence, Princeton University
"This wonderful work is the best introduction to the United States Constitution available. It does a brilliant job reviewing two-and-one-quarter centuries of American experience. Essential reading for those who still believe in ordered liberty and self-government."—
Stephen B. Presser, Raoul Berger Professor of Legal History, Northwestern University
,
and author of Recapturing the Constitution
or
Not Currently Available for Direct Purchase