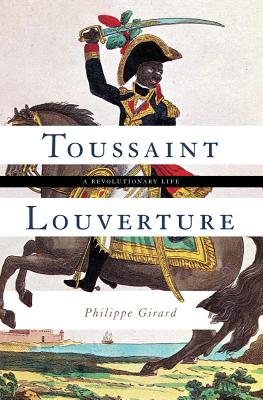 Toussaint Louverture
A Revolutionary Life
Hardcover

* Individual store prices may vary.
Other Editions of This Title:
Digital Audiobook (11/21/2016)
Description
The definitive biography of the Haitian revolutionary Toussaint Louverture, leader of the only successful slave revolt in world history

Toussaint Louverture's life was one of hardship, triumph, and contradiction. Born into bondage in Saint-Domingue (present-day Haiti), the richest colony in the Western Hemisphere, he witnessed first-hand the torture of the enslaved population. Yet he managed to secure his freedom and establish himself as a small-scale planter. He even purchased slaves of his own.

In Toussaint Louverture, Philippe Girard reveals the dramatic story of how Louverture transformed himself from lowly freedman to revolutionary hero. In 1791, the unassuming Louverture masterminded the only successful slave revolt in history. By 1801, he was general and governor of Saint-Domingue, and an international statesman who forged treaties with Britain, France, Spain, and the United States-empires that feared the effect his example would have on their slave regimes. Louveture's ascendency was short-lived, however. In 1802, he was exiled to France, dying soon after as one of the most famous men in the world, variously feared and celebrated as the "Black Napoleon."

As Girard shows, in life Louverture was not an idealist, but an ambitious pragmatist. He strove not only for abolition and independence, but to build Saint-Domingue's economic might and elevate his own social standing. He helped free Saint-Domingue's slaves yet immediately restricted their rights in the interests of protecting the island's sugar production. He warded off French invasions but embraced the cultural model of the French gentility.

In death, Louverture quickly passed into legend, his memory inspiring abolitionist, black nationalist, and anti-colonialist movements well into the 20th century. Deeply researched and bracingly original, Toussaint Louverture is the definitive biography of one of the most influential people of his era, or any other.
Praise For Toussaint Louverture: A Revolutionary Life…
"[An] excellent biography... Girard writes thoughtfully about the various contradictions of Louverture's life."—New Yorker

"This book is superb."—New York Times Book Review

"For nearly 80 years no scholar has written an English-language biography of Haitian revolutionary Toussaint Louverture... [he] is a unique figure in the modern era, and yet he has had some trouble getting due credit. Philippe Girard, a professor of history at Louisiana's McNeese State University, steps into the gap." --New Republic

"Deeply researched and highly sophisticated." --Foreign Affairs

"Girard has certainly come to his task well prepared. He knows the scattered, difficult sources well, citing documents from several dozen archives across five countries. The book draws on the most recent scholarship, including fascinating new revelations about its protagonist's family life... a useful guide to the Haitian Revolution's fearsome complexities."--The Nation


"Girard has provided by far the best account of Louverture's whole-hearted embrace of French culture and reverence for the classical world... more than a straightforward biography. Its most perceptive parts deal with Louverture's construction of his own legend."—Times Literary Supplement (UK)

"[A] meticulously researched biography... The reality that Girard teases out is far more interesting, and in many respects more impressive, than the myth. Toussaint emerges as a man of extraordinary natural gifts, a shrewd negotiator, a careful temporiser when the moment didn't yet seem to serve his needs, and one in whom courage and caution were evenly mixed."—Herald (Scotland)

"[A]n accessible, fascinating historical biography. Girard writes with an inviting, understated confidence that feels welcoming, especially to newcomers to Louverture and Haitian history...he retains a subtle touch that's unafraid of ambiguity. This approach honors his subject's complexity."—Bookforum

"Philippe Girard's Toussaint Louverture is an unusually compelling combination of painstaking research using original archival sources, with a mastery of riveting storytelling. Girard's depiction of the life of perhaps the most famous revolutionary in the history of slavery is refreshingly original, and fearless, as it draws a portrait of the complex life of its subject without regard for conventional interpretations and political correctness. This book is destined to be debated, just as it is destined to be hailed as a major work of biography."—Henry Louis Gates, Jr., Harvard University

"Girard is an entertaining writer and a diligent scholar...[Toussaint Louverture] is a detailed and sympathetic account of a powerful historical figure."—Shelf Awareness

"An ode to the passionate commander of the Haitian revolution, arguably the most successful slave revolt in human history."—VanityFair.com

"[A] fine new biography... [Girard] is just the sort of evenhanded writer to tell a fraught story like Haiti's fairly. He is also impressively up to date in the latest scholarship."—First Things

"An interesting biography... well worth the read." —San Francisco Book Review

"Girard's intelligent and graceful work offers a detailed account of Louverture's experiences and achievements, as well as a laudable overview of the revolution he helped create and sustain."—Publishers Weekly

"A compelling look at an extraordinary historical figure."—Library Journal

"A groundbreaking biography that underscores the difficulties of leading slaves to freedom and avoiding violent extremes."—Kirkus Reviews

"Whereas most Louverture biographers have adopted extreme interpretations, Philippe Girard provides a balanced portrait, sympathetic but unsentimental. It draws astutely on the wealth of recent Haitian Revolution research, to which he has significantly contributed, and is set in a fluently written, highly accessible narrative." —David Geggus, Professor, University of Florida, and author of Haitian Revolutionary Studies

"At long last, the definitive biography of this complicated, mercurial revolutionary. Grounded in an impressive array of archival sources, Girard's remarkable portrait of Louverture is a delight to read. Fascinating and persuasive."—Douglas R. Egerton, author of Death or Liberty: African Americans and Revolutionary America
Basic Books, 9780465094134, 352pp.
Publication Date: November 22, 2016
About the Author
Philippe Girard is a professor of history at McNeese State in Louisiana and the author of four books on Haitian history. A native of the Caribbean, he studied in France and the United States. In 2014, he was a research fellow at the DuBois Institute at Harvard University. He lives in Lake Charles, Louisiana.
or
Not Currently Available for Direct Purchase