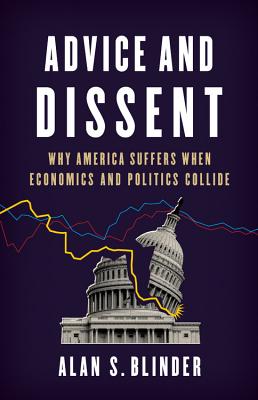 Advice and Dissent (Hardcover)
Why America Suffers When Economics and Politics Collide
Basic Books, 9780465094172, 368pp.
Publication Date: March 27, 2018
* Individual store prices may vary.
Description
A bestselling economist tells us what both politicians and economists must learn to fix America's failing economic policies
American economic policy ranks as something between bad and disgraceful. As leading economist Alan S. Blinder argues, a crucial cultural divide separates economic and political civilizations. Economists and politicians often talk--and act--at cross purposes: politicians typically seek economists' "advice" only to support preconceived notions, not to learn what economists actually know or believe. Politicians naturally worry about keeping constituents happy and winning elections. Some are devoted to an ideology. Economists sometimes overlook the real human costs of what may seem to be the obviously best policy--to a calculating machine. In Advice and Dissent, Blinder shows how both sides can shrink the yawning gap between good politics and good economics and encourage the hardheaded but softhearted policies our country so desperately needs.
About the Author
Alan S. Blinder is the Gordon S. Rentschler Memorial Professor of Economics and Public Affairs at Princeton University, a former member of Bill Clinton's Council of Economic Advisors, and a former vice-chair of the Federal Reserve. The bestselling author of After the Music Stopped, he lives in Princeton, New Jersey.
Praise For Advice and Dissent: Why America Suffers When Economics and Politics Collide…
"[Blinder] knows of what he speaks... His purpose is always to show an underlying economic reality that is too easily overlooked in the hurly-burly of daily debate."—Wall Street Journal

"Refreshingly, this is not just a high-minded complaint that ignorant politicians are scorning dispassionate technocratic economists. Prof Blinder points out, for example, that while economists have correctly argued that in the very long run freer trade boosts efficiency, they tend to discount the transitional costs for those who lose jobs from import competition...Prof Blinder's helpful suggestions are likely for the moment to go unheeded. That is a shame."—Financial Times

"...An outstanding exposition of the contemporary crisis of
inequality in America."—Washington Post

"In Advice and Dissent, economic sage Alan Blinder offers brilliant insights into why politicians so often rely on economics for support but not illumination, with the economy suffering as a consequence. Blinder's perceptive ideas to transform good economics into good politics makes it a must-read for everyone interested in a stronger economy and for economists who need the political savvy to contribute to the policy process."—Janet L. Yellen

"Alan Blinder's book is a thoughtful and witty exploration of what he calls the Lamppost Theory--the proposition that politicians who make economic policy rely on economic experts for support, not for illumination. As a leading academic, a veteran of the policy wars in Washington, and a witty prose stylist, Blinder is ideally placed to explain the policy process in all its messiness and to suggest some practical options for getting better results."—Ben Bernanke

"Full of examples, anecdotes, and wry humor...An illuminating primer on critical U.S. economic issues and how they intersect with politics."—Library Journal

"A valuable book from a sensible centrist who writes with great knowledge and good humor."—Kirkus

"At a moment when policy expertise is devalued in Washington, Advice and Dissent is a brisk and refreshing call to reason. Blinder's thoughtful, entertaining and eminently readable book rightly critiques politicians and economists for misunderstanding each other's motivations. And he traces a helpful path to tackling even the most difficult economic problems by balancing the sound insights of economics with appropriate respect for the exigencies of politics. Politicians and economists can learn from this book. So can the rest of us."—E.J. Dionne, Jr.

"Alan Blinder provides one of the best summaries of the divide between economics and politics. He should know because he has served both areas in the highest capacities. But Alan's greatest gift is that he is first and foremost a pragmatist who is sick and tired of the dysfunction in Washington. His recommendation to economists and politicians is my recommendation to Democrats and Republicans--grow up, work together and better understand that fairness and efficiency can both serve the interest of a better democracy."—Leon Panetta

"More
than any other aspect of governance, economic policy is entangled with--note
well: I do not say 'informed by'--scholarship. Alan Blinder has participated
from both sides in the complicated relationship between academic theories and
political practices. His reflections about this are as fresh as today's
headlines, and as entertaining as they are illuminating."—George F. Will