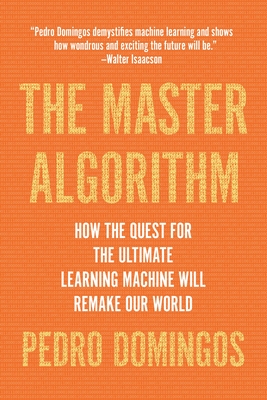 The Master Algorithm (Paperback)
How the Quest for the Ultimate Learning Machine Will Remake Our World
Basic Books, 9780465094271, 352pp.
Publication Date: February 13, 2018
Other Editions of This Title:
Hardcover (9/22/2015)
MP3 CD (1/24/2017)
Compact Disc (9/22/2015)
Compact Disc (9/22/2015)
Hardcover, Chinese (8/5/2016)
MP3 CD (9/22/2015)
* Individual store prices may vary.
Description
A thought-provoking and wide-ranging exploration of machine learning and the race to build computer intelligences as flexible as our own
In the world's top research labs and universities, the race is on to invent the ultimate learning algorithm: one capable of discovering any knowledge from data, and doing anything we want, before we even ask. In The Master Algorithm, Pedro Domingos lifts the veil to give us a peek inside the learning machines that power Google, Amazon, and your smartphone. He assembles a blueprint for the future universal learner--the Master Algorithm--and discusses what it will mean for business, science, and society. If data-ism is today's philosophy, this book is its bible.

About the Author
Pedro Domingos is a professor of computer science at the University of Washington. He is a winner of the SIGKDD Innovation Award, the highest honor in data science. A fellow of the Association for the Advancement of Artificial Intelligence, he lives near Seattle.
Praise For The Master Algorithm: How the Quest for the Ultimate Learning Machine Will Remake Our World…
"Pedro Domingos demystifies machine learning and
shows how wondrous and exciting the future will be."—Walter Isaacson, author of Steve Jobs and The Innovators

"An impressive and wide-ranging work that covers everything from the history of
machine learning to the latest technical advances in the field."—Daily Beast

"Domingos writes with
verve and passion."—New Scientist

"Unlike other books that proclaim a bright future, this one actually gves you what you need to understand the changes that are coming."—Peter Norvig, Director of Research, Google and coauthor of Artificial Intelligence: A Modern Approach

"Domingos is the perfect tour guide from whom you will learn everything
you need to know about this exciting field, and a surprising amount about sience and philosophy as well."—Duncan Watts, Principal Researcher, Microsoft Research, and author of Six Degrees and Everything Is Obvious *Once You Know the Answer

"[The Master Algorithm] does a good job of examining the field's five main techniques.... The subject is meaty and the author...has a knack for introducing concepts at the right moment."—The Economist

"Domingos is a genial and amusing guide, who sneaks us around the backstage areas of the science in order to witness the sometimes personal (and occasionally acrimonious) tenor of research on the subject in recent decades."—Times Higher Education

"An exhilarating venture into groundbreaking computer science." —Booklist, starred review

"[An] enthusiastic but not dumbed-down introduction to machine learning...lucid and consistently informative.... With wit, vision, and scholarship, Domingos decribes how these scientists are creating programs that allow a computer to teach itself. Readers...will discover fascinating insights."
—Kirkus Reviews

"This book is a must have to learn machine learning without equation. It will help you get the big picture of the several learning paradigms. Finally, the provocative idea is not only intriguing, but also very well argued."—Data Mining Research

"If you are interested in a crash course on the enigmatic field of
machine learning and the challenges for AI practitioners that lie ahead, this book is a great read."—TechCast Global

"This book is a sheer pleasure, mixed with education. I am recommending it to all my students, those who studied machine learning, those who are about to do it and those who are about to teach it."—Judea Pearl, professor of computer science, UCLA and winner of the A. M. Turing Award

"Machine learning is the single most transformative technology that will shape our lives over the next fifteen years. This book is a must-read--a bold and beautifully written new framework for looking into the future."—Geoffrey Moore, author of Crossing the Chasm

"Machine learning is a fascinating world never before glimpsed by outsiders. Pedro Domingos initiates you to the mysterious languages spoken by its five tribes, and invites you to
join in his plan to unite them, creating the most powerful technology our civilization has ever seen."—Sebastian Seung, professor, Princeton, and author of Connectome

"A delightful book by one of the leading experts in the field. If you wonder how AI will change your life, read this book."—Sebastian Thrun, research professor, Stanford, Google Fellow and Inventor of the Self-Driving Car

"This is an incredibly important and useful book. Machine learning is
already critical to your life and work, and will only become more so. Finally, Pedro Domingos has written about it in a clear and understandable fashion."—Thomas H. Davenport, Distinguished Professor, Babson College and author of Competing on Analytics and Big Data @ Work span

"Machine learning, known in commercial use as predictive analytics, is changing the world. This riveting, far-reaching, and inspiring book introduces the deep scientific concepts to even non-technical readers, and yet also satisfies experts with a fresh, profound perspective that reveals the most promising research directions. It's a rare gem indeed."—Eric Siegel, founder of Predictive Analytics World and author of Predictive Analytics: The Power to Predict Who Will Click, Buy, Lie, or Die