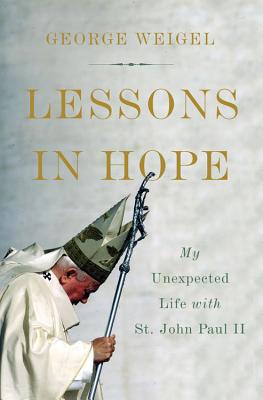 Lessons in Hope
My Unexpected Life with St. John Paul II
Hardcover

* Individual store prices may vary.
Other Editions of This Title:
Digital Audiobook (9/18/2017)
Compact Disc (11/1/2017)
Description
From a preeminent authority on the Catholic Church and papal biographer, "an intimate understanding of John Paul II" (Weekly Standard)

In Lessons in Hope, George Weigel tells the story of his unique friendship with St. John Paul II. As Weigel learns the pope "from inside," he also offers a firsthand account of the tumult of post-Vatican II Catholicism and the Cold War's endgame, introducing readers to the heroes who brought down European communism. Later, he shows us the aging pope grappling with the post-9/11 world order and teaching new lessons in dignity through his own suffering.

A deeply humane portrait of an eminent scholar learning a saint, Lessons in Hope is essential reading for anyone seeking a fuller understanding of a world-changing pope.
Praise For Lessons in Hope: My Unexpected Life with St. John Paul II…
"Lessons in Hope
offers an intimate understanding of John Paul II in action... Weigel's astute analysis of the pope's life and thought is sprinkled throughout with anecdotes from their interviews and encounters... John Paul's "rock-solid confidence in God's guidance of his life... made him the freest man in the world." Those who desire to have such freedom and clarity, especially in our days of ecclesiastical and political confusion, would do well to read this book."
—
Weekly Standard
"For anyone in need of hope, this volume -- with
its reliable understanding of history and Catholic witness, sound analysis, and
the humor of both the author and the saint -- delivers in abundance."
—
National Review
"[A] touching and insightful memoir...Weigel never loses sight of his main purpose: to illuminate the character and mind of the 'emblematic figure of the second half of the twentieth century.'"
—
Commentary
"[F]ascinating and insightful...Weigel details the many personal meetings he had with John Paul, as well as with his friends and collaborators, both in Poland and the Vatican. These lengthy and substantive encounters provided much of the rich material for his biography...Weigel's fine intellect and delight in friendship shine forth in this memoir... The book is written with Weigelian verve, replete with quotable anecdotes that are often amusing and always telling."
—
The Catholic Thing
"An enchanting
biography about a popular pope."
—
Publishers Weekly
"A page-turner for fans of John Paul II, devotees of papal history, or those who simply enjoy a good and literate personal story."
—
Kirkus
"A delightful series of linked, autobiographical vignettes."
—
Catholic Standpoint (UK)
"There's no better eyewitness to the life and papacy of St. John Paul II than George Weigel, and this touching, intimate memoirs tells the story of their improbable friendship. It's a must-read, not simply because it adds to recent Church history, but because it feeds the heart and soul."
—
John L. Allen Jr,. Editor of Crux
"In this album of memories, George Weigel not only gives us an affecting intimate portrait of Saint John Paul II, but an up-close and personal view of the men who helped shape Holy See diplomacy during the late Pope's eventful pontificate.
Lessons in Hope
is much more than a memoir, for no one understands Catholic international relations theory better than Weigel, and no one has written with more sympathetic understanding of the challenges facing the post-conciliar Church."
—
Ambassador Mary Ann Glendon, Learned HandProfessor of Law, Harvard University
"This book recalls a particularly splendid moment in the recent history of Catholicism, a time when a saintly Pope exerted a decisive influence on both the Church and the wider society. But above all, it tells a compelling story of divine providence, the manner in which God wove two lives together--George Weigel's and John Paul II's--for their mutual benefit. Briskly written, intelligent, funny, filled with good stories,
Lessons in Hope
will be a joy to anyone who reads it."—
BishopRobert Barron
"For literary as well as spiritual pleasure, one new offering of interest to anyone who luxuriates in reading is George Weigel's
Lessons in Hope.
With settings as panoramic as those of a thriller, and anecdotes about some of the most fascinating figures and scenes of the twentieth century, it's a moving, personal, melodically rendered memoir of the biographer's times with the late great saint."—
Mary Eberstadt
,
The Claremont Review of Books
"Reading Lessons of Hope is like watching a play about the making of a play. It's a book about the making of the most comprehensive and compelling biography of Pope John Paul II. No other writer enjoyed anything like the personal access that George Weigel did; no one else can speak now with more authority about the Polish pope's remarkable life journey and its impact. And no one else can tell the story behind the story better than Weigel does in this insightful, revealing postscript."
—
Andrew Nagorski
,
former Newsweek Rome and Warsaw bureau chief and author of The Nazi Hunters and Hitlerland
Basic Books, 9780465094295, 368pp.
Publication Date: September 19, 2017
About the Author
George Weigel is distinguished senior fellow of Washington's Ethics and Public Policy Center and one of America's leading public intellectuals. The first volume of his biography of Pope John Paul II, Witness to Hope, was a New York Times bestseller, and his writing appears regularly in a variety of publications, including the Wall Street Journal. He lives in North Bethesda, Maryland.