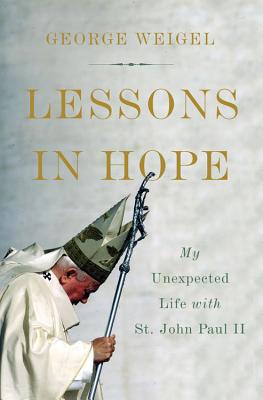 Lessons in Hope (Hardcover)
My Unexpected Life with St. John Paul II
Basic Books, 9780465094295, 368pp.
Publication Date: September 19, 2017
* Individual store prices may vary.
Description

A preeminent authority on the Catholic Church and papal biographer describes what he learned from chronicling the life of Pope John Paul II
In
Lessons in Hope
, George Weigel tells the story of his unique friendship with St. John Paul II. As Weigel learns the pope "from inside," he also offers a firsthand account of the tumult of post-Vatican II Catholicism and the Cold War's endgame, introducing readers to the heroes who brought down European communism. Later, he shows us the aging pope grappling with the post-9/11 world order and teaching new lessons in dignity through his own suffering.

A deeply humane portrait of an eminent scholar learning a saint, Lessons in Hope is essential reading for anyone seeking a fuller understanding of a world-changing pope.





About the Author
George Weigel is a New York Times bestselling author and one of the world's leading authorities on the Catholic Church. Weigel is a distinguished senior fellow of Washington's Ethics and Public Policy Center and lives in North Bethesda, Maryland.



Praise For Lessons in Hope: My Unexpected Life with St. John Paul II…
"This book recalls a particularly splendid moment in the recent history of Catholicism, a time when a saintly Pope exerted a decisive influence on both the Church and the wider society. But above all, it tells a compelling story of divine providence, the manner in which God wove two lives together-George Weigel's and John Paul II's-for their mutual benefit. Briskly written, intelligent, funny, filled with good stories, Lessons in Hope will be a joy to anyone who reads it."—Bishop Robert Barron

Mary Eberstadt, The Claremont Review of Books
"For literary as well as spiritual pleasure, one new offering of interest to anyone who luxuriates in reading is George Weigel's Lessons in Hope: My Unexpected Life with St. John Paul II. With settings as panoramic as those of a thriller, and anecdotes about some of the most fascinating figures and scenes of the twentieth century, it's a moving, personal, melodically rendered memoir of the biographer's times with the late great saint."

"Reading Lessons of Hope is like watching a play about the making of a play. It's a book about the making of the most comprehensive and compelling biography of Pope John Paul II. No other writer enjoyed anything like the personal access that George Weigel did; no one else can speak now with more authority about the Polish pope's remarkable life journey and its impact. And no one else can tell the story behind the story better than Weigel does in this insightful, revealing postscript."—Andrew Nagorski, former Newsweek Rome and Warsaw bureau chief and author of The Nazi Hunters and Hitlerland