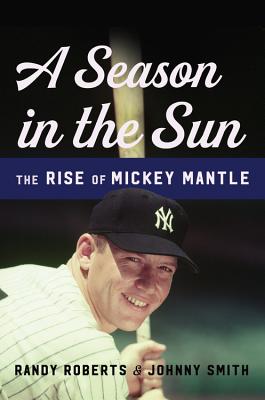 A Season in the Sun (Hardcover)
The Rise of Mickey Mantle
Basic Books, 9780465094424, 304pp.
Publication Date: March 27, 2018
Other Editions of This Title:
Digital Audiobook (3/26/2018)
* Individual store prices may vary.
Description
The story of Mickey Mantle's magnificent 1956 season

Mickey Mantle was the ideal batter for the atomic age, capable of hitting a baseball harder and farther than any other player in history. He was also the perfect idol for postwar America, a wholesome hero from the heartland.

In A Season in the Sun, acclaimed historians Randy Roberts and Johnny Smith recount the defining moment of Mantle's legendary career: 1956, when he overcame a host of injuries and critics to become the most celebrated athlete of his time. Taking us from the action on the diamond to Mantle's off-the-field exploits, Roberts and Smith depict Mantle not as an ideal role model or a bitter alcoholic, but a complex man whose faults were smoothed over by sportswriters eager to keep the truth about sports heroes at bay. An incisive portrait of an American icon, A Season in the Sun is an essential work for baseball fans and anyone interested in the 1950s.
About the Author
Randy Roberts is the 150th Anniversary distinguished professor of history at Purdue University. He is the award-winning author of many books on the intersection of popular and political history, including A Season in the Sun: The Rise of Mickey Mantle (with Johnny Smith). He lives in Lafayette, Indiana.

Johnny Smith is the J. C. "Bud" Shaw professor of sports history and an associate professor of history at Georgia Tech. He is the co-author of Blood Brothers: The Fatal Friendship Between Muhammad Ali and Malcolm X (with Randy Roberts). He lives in Atlanta, Georgia.
Praise For A Season in the Sun: The Rise of Mickey Mantle…
"Anyone who loves the sport will find hours of undiluted joy in one of the best books on baseball--or any other sport--that I have encountered."—
Washington Times
"It is not hard to believe that if Mickey Mantle had been healthy and took better care of his body, he would probably be remembered as the best baseball player ever. This excellent book proves why."—
Ken Burns
"Mickey Mantle was a genuinely great baseball player. But at his very best, he was among the greatest of the great. A Season in the Sun vividly illuminates the Mickey Mantle of 1956, when he was at his very best."
—
Bob Costas
,
NBC Sports
"[Roberts and Smith] masterfully spin a narrative that places Mantle and his trials as a microcosm of America during the evolving decade...
A Season in the Sun
is a must-read for not just any baseball fan, but anyone interested in the peculiarities of postwar American culture."—
Off the Bench
"
A Season In The Sun
paints the picture of about what New York, America, and baseball was like in the 1950s, a treasure trove of information that is a must read for Yankee fans and admirers of Number 7."—
Brooklyn Digest
"A brisk account of a career and a culture that presages much of our current-day obsession with celebrity."
—
Kirkus Reviews
"Highly recommended for fans of sports, Americana, and those seeking an informative historical read."—
Library Journal, starred review
"This is a rich, detailed exploration of the Mantle legend." —
Publishers Weekly
"I loved A Season in the Sun. This compelling book on Mickey Mantle at his greatest and most vulnerable illuminates history and shatters myths at the same time."
—
David Maraniss
,
author of Clemente: The Passion and Grace of Baseball's Last Hero
"Sex, booze, and an epic home-run race with a ghost: 1956 was a raucous year in baseball, richly recounted here.... A Season in the Sun is a shimmering snow globe of a game and a time gone by."
—
John Thorn, official historian, Major League Baseball
"A Season in the Sun is the best book on Mickey Mantle that I've read by some margin.... Randy Roberts and Johnny Smith stitch together not only a damn good baseball story--I found the game-by-game arc very compelling--but also link Mantle to his times in a way that really makes the book stand out. It's informative, thoughtful, and without being hokey or hagiographic, it is almost a love letter to a lost and often misunderstood period of baseball history."
—
Nathan Corzine
,
author of Team Chemistry: The History of Drugs and Alcohol in Major League Baseball
"From the title to its protagonist,
A Season in the Sun
is baseball: thrilling, heroic, enduring. Mickey Mantle and his times return to us flawed yet still fabulous. Even 60 years later, some stories are so good, they never get old."—
Howard Bryant
,
author of The Last Hero: A Life of Henry Aaron