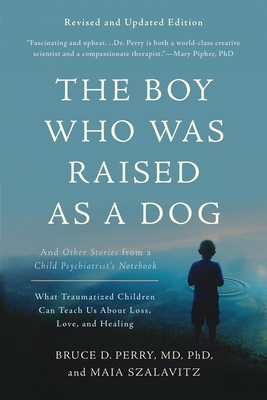 The Boy Who Was Raised as a Dog (Paperback)
And Other Stories from a Child Psychiatrist's Notebook--What Traumatized Children Can Teach Us About Loss, Love, and Healing
Basic Books, 9780465094455, 448pp.
Publication Date: August 29, 2017
* Individual store prices may vary.
Description
A renowned psychiatrist reveals how trauma affects children--and outlines the path to recovery
"Fascinating and upbeat.... Dr. Perry is both a world-class creative scientist and a compassionate therapist." --Mary Pipher, PhD, author of Reviving Ophelia
How does trauma affect a child's mind--and how can that mind recover? In the classic The Boy Who Was Raised as a Dog, Dr. Perry explains what happens to the brains of children exposed to extreme stress and shares their lessons of courage, humanity, and hope. Only when we understand the science of the mind and the power of love and nurturing, can we hope to heal the spirit of even the most wounded child.
About the Author
Bruce D. Perry, MD, PhD
, is the senior fellow of the ChildTrauma Academy, a not-for-profit organization based in Houston, TX, and an adjust professor in the Department of Psychiatry and Behavioral Sciences at the Feinberg School of Medicine at Northwestern University in Chicago.
Maia Szalavitz is an award-winning journalist who specializes in neuroscience. With Dr. Perry, she also cowrote Born for Love: Why Empathy Is Essential--and Endangered. Her other books include Unbroken Brain: A Revolutionary New Way of Understanding Addiction and Help at Any Cost: How the Troubled-Teen Industry Cons Parents and Hurts Kids. She lives in New York City with her husband and a Siamese shelter cat.
Praise For The Boy Who Was Raised as a Dog: And Other Stories from a Child Psychiatrist's Notebook--What Traumatized Children Can Teach Us About Loss, Love, and Healing…
"Filled with compassionate, caring stories by a wise healer and scientist, this book will appeal to all who are interested in understanding how children heal."—Lynn Ponton, MD, author of The Romance of Risk

"This book demands and deserves attention from parents, educators, policymakers, courts, and therapists. Highly recommended."—Library Journal, starred review

"Perry has learned a thing or two about how not to raise a prospective sociopath.... He makes a powerful case for early intervention for disruptive children to prevent adult sociopathy."—Booklist

"In beautifully written, fascinating accounts of experience working with emotionally stunted and traumatized children, child psychiatrist Perry educates readers about how early-life stress and violence affects the developing brain. He offers simple yet vivid illustrations of the stress response and the brain's mechanisms with facts and images that crystallize in the mind without being too detailed and confusing."—Publishers Weekly

"I have never encountered a child advocate with a better mind, a bigger heart, or a more generous spirit than Bruce Perry. This book captures the essence of his insights and the heroism of his actions on behalf of children who have encountered the dark side of human experience."—James Garbarino, PhD, author of Lost Boys: Why Our Sons Turn Violent and How We Can Save Them

"For many years, Bruce Perry's work has been deserving of our highest praise. This book is his crowning achievement, the ultimate combination of science and humanity."—Joel A. Dvoskin, PhD, ABPP, University of Arizona College of Medicine, and President, American Psychology-Law Society

"In this harrowing but profoundly humane book, Perry and Szalavitz provide an all too timely, utterly engrossing account of traumatized children's lives.... Once I opened it, I could not put it down."—Sarah Blaffer Hrdy, author of Mother Nature: Maternal Instincts and How They Shape the Human Species

"The Boy Who Was Raised as a Dog is Bruce Perry's finest achievement.... Anyone who wants to understand childhood trauma and its heartbreaking consequences must read this book."—Andrew Vachss, best-selling author of Mask Market and founder and national advisory board member of PROTECT: The National Association to Protect Children.