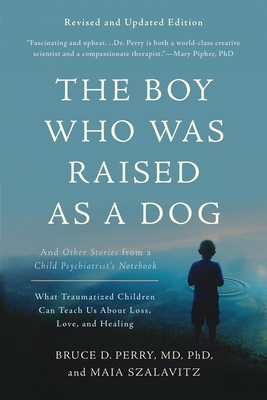 The Boy Who Was Raised as a Dog (Paperback)
And Other Stories from a Child Psychiatrist's Notebook--What Traumatized Children Can Teach Us about Loss, Love, and
Basic Books, 9780465094455, 448pp.
Publication Date: August 29, 2017
* Individual store prices may vary.
Description
"Fascinating and upbeat.... Dr. Perry is both a world-class creative scientist and a compassionate therapist." --Mary Pipher, PhD, author of Letters to a Young Therapist
How does trauma affect a child's mind--and how can that mind recover? In the classic The Boy Who Was Raised as a Dog, Dr. Perry explains what happens to the brains of children exposed to extreme stress and shares their lessons of courage, humanity, and hope. Only when we understand the science of the mind and the power of love and nurturing, can we hope to heal the spirit of even the most wounded child.
About the Author
Bruce D. Perry, MD, PhD, is the senior fellow of the ChildTrauma Academy, a not-for-profit organization based in Houston, TX, and an adjust professor in the Department of Psychiatry and Behavioral Sciences at the Feinberg School of Medicine at Northwestern University in Chicago.Maia Szalavitz is an award-winning journalist who specializes in neuroscience. With Dr. Perry, she also cowrote Born for Love: Why Empathy Is Essential--and Endangered. Her other books include Unbroken Brain: A Revolutionary New Way of Understanding Addiction and Help at Any Cost: How the Troubled-Teen Industry Cons Parents and Hurts Kids. She lives in New York City with her husband and a Siamese shelter cat.