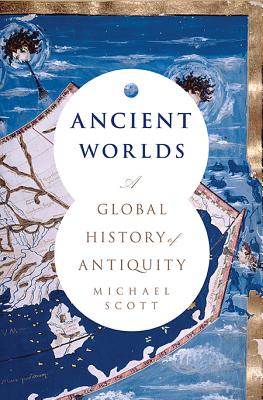 Ancient Worlds (Hardcover)
A Global History of Antiquity
Basic Books, 9780465094721, 448pp.
Publication Date: November 1, 2016
* Individual store prices may vary.
Description
"As panoramic as it is learned, this is ancient history for our globalized world." -- Tom Holland, author of Dynasty and Rubicon

Twenty-five-hundred years ago, civilizations around the world entered a revolutionary new era that overturned old order and laid the foundation for our world today. In the face of massive social changes across three continents, radical new forms of government emerged; mighty wars were fought over trade, religion, and ideology; and new faiths were ruthlessly employed to unify vast empires. The histories of Rome and China, Greece and India-the stories of Constantine and Confucius, Qin Shi Huangdi and Hannibal-are here revealed to be interconnected incidents in the midst of a greater drama.

In Ancient Worlds, historian Michael Scott presents a gripping narrative of this unique age in human civilization, showing how diverse societies responded to similar pressures and how they influenced one another: through conquest and conversion, through trade in people, goods, and ideas.

An ambitious reinvention of our grandest histories, Ancient Worlds reveals new truths about our common human heritage.

"A bold and imaginative page-turner that challenges ideas about the world of antiquity."
Peter Frankopan, author of The Silk Roads
About the Author
Michael Scott is an Associate Professor in Classics and Ancient History at the University of Warwick, UK. He is the author of Delphi, Delphi and Olympia, Space and Society in the Greek and Roman Worlds, and From Democrats to Kings. Scott has written and presented a range of television and radio programs for National Geographic, History Channel, Nova, and BBC.
Praise For Ancient Worlds: A Global History of Antiquity…
"[An] impeccably researched and authoritative study of the world 500BC to AD300.... Scott's scholarly but accessible style manages to make this sweeping saga enthralling throughout, as he traces the stories of everyone from Hannibal to Confucius, debunking myths and cliches along the way."
-The Guardian (UK)

"Offering the Mediterranean and the Far East as a giant chessboard-with individual moves impacting the whole-astute analysis is matched with acute prose."
-Prospect Magazine (UK)

"Impressive."
-The Times (UK)

"The presentation of events revealing unfamiliar connections and comparisons, as well as the inclusion of less-familiar topics such as the Seleucid Empire and Armenia, provides a fascinating perspective that many readers should find intriguing."
-Library Journal

"A welcome broadening of our understanding of antiquity.... Scott teaches us that the past is a work in progress influenced by political and religious ideas and powerful rulers and individuals, and he proves that we need to continue to study and learn."
-Kirkus Reviews


"This vivid and engaging book brings to life some of the most important moments in ancient history, moments that have shaped not only the politics and culture of bygone eras, but the institutions, thoughts and fantasies of our time."
-Yuval Noah Harari, author of Sapiens

"This is a pathbreaking contribution to the going interest in seeing the ancient world as a whole, embracing China and India as much as Greece and Rome. And what's more, it's a joy to read!"
-Ian Morris, author of Why the West Rules-For Now

"As panoramic as it is learned, this is ancient history for our globalized world."
-Tom Holland, author of Dynasty and Rubicon

"A bold and imaginative page-turner that challenges ideas about the world of antiquity."
-Peter Frankopan, author of The Silk Roads

"Michael Scott puts the western past in global perspective. He pursues patterns and entanglements that crossed ancient continents and continue to shape us today. His fascinating account brings together Confucius and the Battle of Marathon, Hannibal and Ashoka, Buddhism and Christianity-as well as Hollywood and the Chinese movie industry. As big-picture history it is dazzling and delightful."
-Barry Strauss, author of The Death of Caesar: The Story of History's Most Famous Assassination