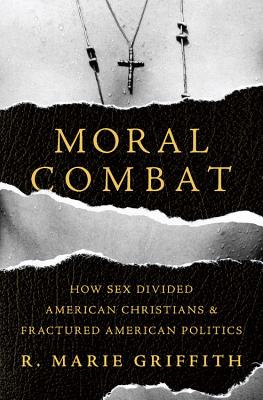 Moral Combat (Hardcover)
How Sex Divided American Christians and Fractured American Politics
Basic Books, 9780465094752, 416pp.
Publication Date: December 12, 2017
Other Editions of This Title:
MP3 CD (12/12/2017)
Compact Disc (12/12/2017)
* Individual store prices may vary.
Description
From an esteemed scholar of American religion and sexuality, a sweeping account of the century of religious conflict that produced our culture wars
Gay marriage, transgender rights, birth control--sex is at the heart of many of the most divisive political issues of our age. The origins of these conflicts, historian R. Marie Griffith argues, lie in sharp disagreements that emerged among American Christians a century ago. From the 1920s onward, a once-solid Christian consensus regarding gender roles and sexual morality began to crumble, as liberal Protestants sparred with fundamentalists and Catholics over questions of obscenity, sex education, and abortion. Both those who advocated for greater openness in sexual matters and those who resisted new sexual norms turned to politics to pursue their moral visions for the nation.
Moral Combat
is a history of how the Christian consensus on sex unraveled, and how this unraveling has made our political battles over sex so ferocious and so intractable.
About the Author
R. Marie Griffith is the John C. Danforth Distinguished Professor at Washington University in St. Louis, where she directs the Danforth Center on Religion and Politics. She lives in St. Louis, Missouri.
Praise For Moral Combat: How Sex Divided American Christians and Fractured American Politics…
"[Griffith] shows that at every turn in the culture wars of
the last century or so, religious leaders have battled to obstruct gender,
sexual, and racial equality.... The juxtaposition of deep dives and aerial views
makes...a propulsive read. As do the wrinkles that complicate any easy political
assumptions."—Laura Kipnis, New York Review of Books

"Magisterial...Griffith's observations are eerily prescient...Moral Combat is an impressive history of a massive fault line running through American history and politics: namely, sex."—Washington Post

"Moral
Combat is a vivid illustration of a principle that liberals understand well
and that religious conservatives usually do not: Culture precedes politics."—Wall Street Journal

"Marie Griffith...reviews a century's worth of American cultural conflict over sexuality, fueled by a growing divide between religious subcultures. Readers will benefit from her clear presentation of the longer history and larger significance of our sexual conflicts."—Christianity Today

"Griffith has undoubtedly performed a great service in documenting the influence of these largely forgotten reformers and ecumenical bodies. Her book is deeply researched, nuanced in its portrayals of activists on both sides, and thoroughly entertaining to boot."—Los Angeles Review of Books

"The story Griffith tells is crucial.... Her contribution is part of a
much-needed sex education, and like all good teachers she presents it vividly."—Linda Gordon, New Republic

"Highly informative."—The Gospel Coalition

"[An] exceptional cultural history...Griffith's remarkably comprehensive book will be of interest to scholars and lay readers alike."—Publishers Weekly (starred review)

"Griffith offers a carefully reasoned examination of the century-long political and religious controversies over sexuality that color our national character. Given the passions engendered by these controversies on both sides--conservative and liberal--she demonstrates that comity and compromise are perennially elusive, while consensus seems to be a word in an incomprehensible language. Happily Griffith brings welcome clarity and light to what otherwise might have been impenetrable murkiness."—Booklist

"Thoughtful study of the great schism between religious conservatives and progressives about women's control over their own bodies."—Kirkus Reviews

"Takes the reader through a history of sexual politics since
1920 focusing on this ongoing struggle for women's rights, and with a special
emphasis on the part religious faith has played in all of it.... Highly
recommended."—Decatur Daily

"Griffith...dissects the sweeping cultural change that
tweaked religious and well as secular morality in America."—Washington Times

"An in-depth history of how American Christians have divided
into two warring factions...and how the impassable divide between these two
groups created the 'culture wars' of today."—Book Riot

"The strength [of Moral Combat] is a coherent narrative that
seeks to understand the history of legislating sex through Christianity... This book will appeal to a range of readers seeking an entry point into the
historical and religious context of today's high-stakes political struggles."—Library Journal

"Moral Combat is a momentous book about the deep, irreparable divisions that the politicization of sex has inflicted on our society for the past century. Loaded with memorable characters and keen insights, Marie Griffith's elegantly written account of the culture wars' most heated flashpoint is both absorbing and sobering. And it is required reading for anyone trying to understand the fiercest political agitations of our day."—Darren Dochuk, author of From Bible Belt to Sunbelt: Plain-Folk Religion, Grassroots Politics, and the Rise of Evangelical Conservatism

"Moral Combat ably examines the sharp intra-Christian divisions of opinion on twentieth-century flashpoints of controversy over contraception, obscenity, interracial sex, sex education, abortion, sexual harassment and same-sex marriage. By tracing these divergences to their embeddedness in differential responses to feminism and women's self-determination, Marie Griffith supplies an analysis needed to understand the conflicts and blind spots in sexual attitudes today."—Nancy F. Cott, author of Public Vows: A History of Marriage and the Nation

"With grace and insight, Marie Griffith has taken on one of the most intractable and enduring issues in American life and faith: that of the role sexuality plays in our religion and in our politics. A force of division and of fascination since Eden, sex is a perennial theme in the human story, and Griffith's intelligent, sober, and illuminating book offers us new ways to think about the most ancient--yet urgent--of questions."—Jon Meacham, Pulitzer Prize-winning author of Destiny and Power

"For those of us wondering how the United States got to be the way it is today--religiously, sexually, and politically--Moral Combat is essential reading. R. Marie Griffith, a distinguished historian of American religion, shows that the fierce and bitter contests among Christians in the twentieth century over good religion vs. bad religion, good sex vs. bad sex, have been and remain at the core of the most explosive issues of American public life. Women's health, African American civil rights, marriage, the cruel fantasy of white supremacy, workplace behavior, the public reputation of science, and more--God and sex are implicated in all of them. The United States is not a God-obsessed nation, as some would have it; it is a God-and-sex-obsessed nation. And the stakes are high: at the heart of this brilliant work of religious and political history is the question of the future of American democracy itself."—Robert A. Orsi, author of History and Presence