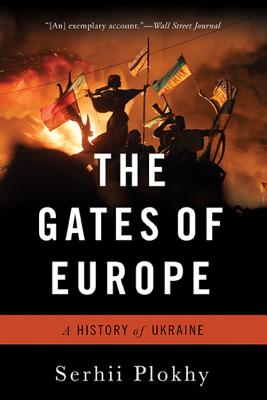 The Gates of Europe (Paperback)
A History of Ukraine
Basic Books, 9780465094868, 432pp.
Publication Date: May 30, 2017
* Individual store prices may vary.
Description
"[An] exemplary account of Europe's least-known large country... leavened by aphorism and anecdote." --Wall Street Journal
Award-winning historian Serhii Plokhy presents the authoritative history of Ukraine and its people from the time of Herodotus to the present crisis with Russia. As Ukraine once again finds itself at the center of global attention, The Gates of Europe provides unique insight into the origins of the most dangerous international crisis since the end of the Cold War.
About the Author
Serhii Plokhy is the Mykhailo Hrushevsky Professor of Ukrainian History at Harvard and the director of the university's Ukrainian Research Institute. The award-winning author of nine books, Plokhy lives in Arlington, Massachusetts.
Praise For The Gates of Europe: A History of Ukraine…
"[An] exemplary account of Europe's least-known large country... one of the joys of reading the The Gates of Europe is that what might seem a dense account of distant events involving unfamiliar places and people is leavened by aphorism and anecdote."—Wall Street Journal

"An assured and authoritative survey that spans ancient Greek times to the present day."—Financial Times

"Readers can find no better place to turn than Plokhy's new book.... Plokhy navigates the subject with grace and aplomb."—Foreign Affairs

"Elegantly written."—New York Review of Books

"The timeframe and subjects covered here are extraordinary...students, academics, and readers with a general knowledge of Ukraine will appreciate. Alternatively, chapters can be read independently, allowing those with a strong interest in the subject to focus on a specific era of Ukraine's history."—Library Journal

"Injecting appropriate nuance and complexity into a single-volume overview of 2,000 years of Ukrainian history is no small task, but Plokhy approaches this charge with dexterity and skill.... Plokhy's work serves as a welcome introduction to Ukraine's ethnic and national history."—Publishers Weekly

"[A] concise, highly readable history of Ukraine...a lively narrative peopled with a colorful cast of Norse and Mongol marauders, free-booting Cossacks, kings, conquerors and dictators, and conflicted 19th century intellectuals who believed fervently in a Ukrainian cultural identity but were fatally divided as to how that cultural identity could evolve into national entity."—Washington Times

"A masterly surveyor of Ukrainian history."—Independent (UK)

"A sympathetic survey of the history of Ukraine along the East-West divide, from ancient divisions to present turmoil.... A straightforward, useful work that looks frankly at Ukraine's ongoing "price of freedom" against the rapacious, destabilizing force of Russia."—Kirkus Reviews

"[An] admirable new history.... In his elegant and careful exposition of Ukraine's past, Mr. Plokhy has also provided some signposts to the future."—Economist