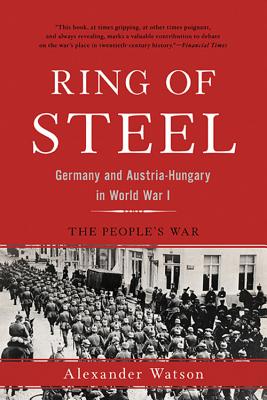 Ring of Steel (Paperback)
Germany and Austria-Hungary in World War I
Basic Books, 9780465094882, 832pp.
Publication Date: March 28, 2017
Other Editions of This Title:
Hardcover (10/7/2014)
* Individual store prices may vary.
Description
A prize-winning, magisterial history of World War I from the perspective of the defeated Central Powers
For the Central Powers, the First World War started with high hopes for an easy victory. But those hopes soon deteriorated as Germany's attack on France failed, Austria-Hungary's armies suffered catastrophic losses, and Britain's ruthless blockade brought both nations to the brink of starvation. The Central powers were trapped in the Allies' ever-tightening Ring of Steel.
In this compelling history, Alexander Watson retells the war from the perspective of its losers: not just the leaders in Berlin and Vienna, but the people of Central Europe. The war shattered their societies, destroyed their states, and imparted a poisonous legacy of bitterness and violence. A major reevaluation of the First World War, Ring of Steel is essential for anyone seeking to understand the last century of European history.
About the Author
Alexander Watson is professor of history at Goldsmiths, University of London. He has been a college Research Fellow and British Academy Postdoctoral Fellow at the University of Cambridge and, from 2011-13, a Marie Curie Intra-European Fellow at the University of Warsaw. His first book, Enduring the Great War, won the Fraenkel Prize. Alexander Watson lives in London.
Praise For Ring of Steel: Germany and Austria-Hungary in World War I…
Winner of the Guggenheim-Lehrman Prize in Military History
Winner of the Wolfson History Prize

The Society of Military History 2015 Distinguished Book Award Recipient

British Army Military Book of the Year

"In a year crowded with histories of World War I, Alexander Watson's
Ring of Steel
makes a truly indispensable contribution in allowing us to see from the inside out this disastrous alliance between Austria and imperial Germany.... It is a mark of talent in a historian to take familiar narratives and open them to new interpretation. Mr. Watson's book is a brilliant demonstration of this skill."—
Wall Street Journal
Ring of Steel
is perhaps the most important of the current crop of [WWI] books -- and certainly one of the best."—
Guardian (UK)
"This book, at times gripping, at other times poignant, and always revealing, marks a valuable contribution to [the] debate on the war's place in twentieth-century history."—
Financial Times
"Remarkable...the first comprehensive history of the war written from the perspective of the Central Powers."—
Los Angeles Review of Books
"A fresh approach in analyzing the conflict.... Watson's main concern here is to try and figure out why the loss of the war for the central powers created the unstable states that emerged in the aftermath of the conflict. He finishes off the task he has set himself here with considerable precision and skill."—
Daily Beast
"British historians have tended to view the Great War predominantly from the side of the Allies. Watson has done our understanding an inestimable service by examining these familiar events from the perspective of the Central Powers."—
Telegraph (UK)
"In a year dominated by memories of the First World War, this supremely accomplished book stands out. Not only does it look at the conflict from the perspective of the losing Central Powers, imperial Germany and Austria-Hungary, but it brings together political, military, economic and cultural history in an enormously impressive narrative."—
Sunday Times (UK) History Book of the Year
"Watson has contributed a definitive resource to the literature on the strategic enigma being debated during the centennial of WW I."—
Choice
"Illuminating...an outstanding book that has been scrupulously researched. I highly recommend this book to students of World War I and indeed anyone who wants to see how the Central Powers dealt with the stresses of war on the homefront. They will not find a better, fairer history because it has not yet been written."—
Battles and Book Reviews