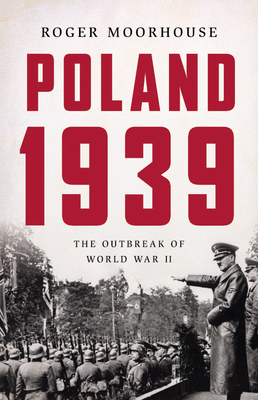 Poland 1939
The Outbreak of World War II
Hardcover

* Individual store prices may vary.
Other Editions of This Title:
Digital Audiobook (7/13/2020)
Paperback (10/4/2022)
Compact Disc (7/14/2020)
Description
A "chilling" and "expertly" written history of the 1939 September Campaign and the onset of World War II (Times of London).
For Americans, World War II began in December of 1941, with the bombing of Pearl Harbor; but for Poland, the war began on September 1, 1939, when Hitler's soldiers invaded, followed later that month by Stalin's Red Army. The conflict that followed saw the debut of many of the features that would come to define the later war-blitzkrieg, the targeting of civilians, ethnic cleansing, and indiscriminate aerial bombing-yet it is routinely overlooked by historians.
In Poland 1939, Roger Moorhouse reexamines the least understood campaign of World War II, using original archival sources to provide a harrowing and very human account of the events that set the bloody tone for the conflict to come.


Praise For Poland 1939: The Outbreak of World War II…
"Exemplary.... About as good as military history can be. Moorhouse has visited the places he writes about, and understands weaponry, tactics and the structures of the German and Polish armed forces.... Like all good histories, Moorhouse's answers an old question and raises a new one."—New York Times

"As Roger Moorhouse relates in Poland 1939: The Outbreak of World War II, the short, savage campaign to crush the Poles, who fought against hopeless odds, proved to be 'a five-week struggle that prefaced nearly 300 weeks of slaughter'… He tells a tale of Polish gallantry, German brutality, and what he sees as Anglo-French perfidy."—New York Review of Books

"Moorhouse's book
remedies that gap [in the history of The Polish War], weaving together archival
material, first-hand accounts, perceptive analysis and heartbreaking
descriptions of Poland's betrayal, defeat and dismemberment."—Economist

"Chilling... All Poles know that their September war -- and of
course the many subsequent years of occupation, resistance and exile -- was no
side-show. Now Moorhouse has expertly laid bare this simple truth: that when
two totalitarian regimes make common cause, everyone in their immediate
neighbourhood is likely to be trampled underfoot."—Times (UK)

"Excellent... a harrowing, but very needed, account of the first engagement of the Second World War."—Telegraph

"A fascinating book.... There are moments of heroism and defiance here that will put a catch in your throat and a shiver down your spine."—Sunday Telegraph

"Timely and authoritative.... Moorhouse has trawled through an impressive quantity of unpublished Polish and German sources, as well as a wealth of eyewitness testimonies from both sides, to produce a balanced account of this much neglected yet important episode of the Second World War which is both harrowing and inspiring."—Spectator

"Moorhouse...admirably achieves his aim of putting the Polish-German war back onto the broader canvas of the Second World War."—Richard Overy, History Today

"Readers will be fascinated by this well-written, carefully researched study of the beginning of World War II. Polish Americans, in particular, will be proud of the heroism and determination displayed by the Polish people throughout that devastating ordeal."—The Am-Pol Eagle

"We tend to overlook 'the war Hitler won' but Roger Moorhouse brilliantly underlines its crucial importance for the future course of the Second World War. This deeply researched, very well-written, and penetrating book will be the standard work on the subject for many years to come."—Andrew Roberts , author of Churchill: Walking with Destiny

"An accomplished British historian of World War II, Moorhouse delves deeply into this five-week opening to the larger conflict, showing how it presaged the horrors to come.... An excellent study by a thorough chronicler that adds considerably to the historical record."—Kirkus, starred review

"Moorhouse successfully fills in the gaps of an episode that receives cursory treatment in most WWII narratives."—Publishers Weekly

"There remain a number of myths about the invasion of Poland in 1939. Moorhouse seeks to use modern historiography to correct these falsehoods. A solid analysis of World War II's first major operation."—Library Journal
Basic Books, 9780465095384, 432pp.
Publication Date: July 14, 2020
About the Author
Roger Moorhouse studied history at the University of London and is a visiting professor at the College of Europe in Warsaw. He is the author of several books on World War II history, including Berlin at War (shortlisted for the Hessell-Tiltman Prize) and The Devils' Alliance. He lives in the United Kingdom.