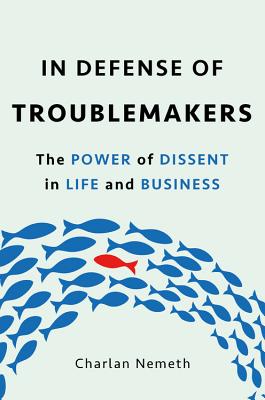 In Defense of Troublemakers (Hardcover)
The Power of Dissent in Life and Business
Basic Books, 9780465096299, 272pp.
Publication Date: March 20, 2018
Other Editions of This Title:
MP3 CD (10/30/2018)
Compact Disc (10/30/2018)
* Individual store prices may vary.
Description
An eminent psychologist explains why dissent should be cherished, not feared
We've decided by consensus that consensus is good. In In Defense of Troublemakers, psychologist Charlan Nemeth argues that this principle is completely wrong: left unchallenged, the majority opinion is often biased, unoriginal, or false. It leads planes and markets to crash, causes juries to convict innocent people, and can quite literally make people think blue is green. In the name of comity, we embrace stupidity. We can make better decisions by embracing dissent. Dissent forces us to question the status quo, consider more information, and engage in creative decision-making.
From Twelve Angry Men to Edward Snowden, lone objectors who make people question their assumptions bring groups far closer to truth--regardless of whether they are right or wrong. Essential reading for anyone who works in groups, In Defense of Troublemakers will radically change the way you think, listen, and make decisions.
About the Author
Charlan Nemeth is a professor in the Department of Psychology at the University of California, Berkeley. She lives in San Francisco.
Praise For In Defense of Troublemakers: The Power of Dissent in Life and Business…
"There are many such useful ideas in Charlan Nemeth's In Defense of Troublemakers, her study of dissent in life and the workplace. But if this one alone takes hold, it could transform millions of meetings, doing away with all those mushy, consensus-driven hours wasted by people too scared of disagreement or power to speak truth to gibberish."—Wall Street Journal

"Nemeth makes her research accessible in a lucid and at times beautifully written form."—Success

"In this enlightening and empowering read, psychologist Charlan Nemeth makes a case for dissent in business, in culture, and in everyday life."—Bustle.com

"A provocative work that will appeal to broad general audiences as well as avid readers of business and life success how-to."—Library Journal

"Good ammunition for contrarians and well-grounded in scholarly research."—Kirkus Reviews

"In clear and earnest prose, she shares her evidence, logic, and insights for fostering genuine and productive discussion that can yield useful and original solutions and discoveries."—CHOICE

"Charlan Nemeth personifies minority influence; there is no person on the planet better scientifically qualified to write a book on the dynamics of dissent."—Philip Tetlock, Leonore Annenberg University Professor of Psychology and Management at the University of Pennsylvania and author of Superforecasting

"Charlan Nemeth has written the definitive account of dissent and how it affects thinking. This remarkably insightful, grounded, and accessible treatment could not be more important or more timely."—Karl E. Weick, co-author of Managing the Unexpected

"This book will fundamentally change your mindset in how to manage a crisis and should be required reading for all MBA programs."—Jennifer Johnson, President and COO at Franklin Templeton Investments

"A timely tome on the perils of silence and the value of voice. Charlan Nemeth is one of the world's leading experts on making decisions and influencing others, and she presents a career's worth of evidence on why the views you don't want to consider are often the ones you need to hear most."—Adam Grant, New York Times bestselling author of Originals, Give and Take, and Option B (with Sheryl Sandberg)

"A beautifully written and important book that deserves to be read by the docile and disobedient alike. Crowds are sometimes wise, but Charlan Nemeth shows how, when, and why listening to the majority is dangerous, and why disagreement is often an engine of innovation, persuasion, and error correction."—Adam Alter, bestselling author of Irresistible and Drunk Tank Pink

"A lucid, practical guide to fostering smarter teams, companies, and societies. Charlan Nemeth demonstrates the power of nonconformists in raising the quality of our group decisions."—William Poundstone, author of Are You Smart Enough to Work at Google?

"Insightful, easy to read and full of examples... In this illuminating book, Charlan Nemeth demonstrates how dissent improves decision-making. This is a book every manager and board member should read."—Professor Saadi Lahlou, Chair in Social Psychology, London School of Economics