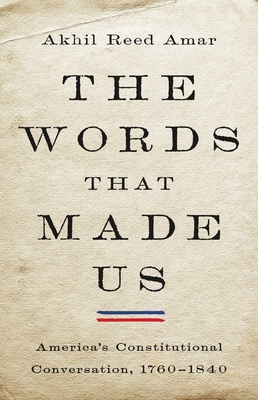 The Words That Made Us
America's Constitutional Conversation, 1760-1840
Hardcover

* Individual store prices may vary.
Description
A history of the American Constitution's formative decades from a preeminent legal scholar
When the US Constitution won popular approval in 1788, it was the culmination of thirty years of passionate argument over the nature of government. But ratification hardly ended the conversation. For the next half century, ordinary Americans and statesmen alike continued to wrestle with weighty questions in the halls of government and in the pages of newspapers. Should the nation's borders be expanded? Should America allow slavery to spread westward? What rights should Indian nations hold? What was the proper role of the judicial branch?
In The Words that Made Us, Akhil Reed Amar unites history and law in a vivid narrative of the biggest constitutional questions early Americans confronted, and he expertly assesses the answers they offered. His account of the document's origins and consolidation is a guide for anyone seeking to properly understand America's Constitution today.

Praise For The Words That Made Us: America's Constitutional Conversation, 1760-1840…
"Deeply probing, highly readable… insightful, and at times surprising… Amar strongly suggests that America as a whole — through its great national conversation — did more to draft the Declaration of Independence than Jefferson, and more to write the Constitution than Madison…. In addition to educating Americans engaged in discussion about their rich constitutional legacy, the book has a generous spirit that can be a much-needed balm in these troubled times."—New York Times

"[T]he rarest of things — a constitutional romance. Amar, an eminent professor of law and political science at Yale, has great affection for his subject as a text that is worthy of loving engagement by scholars and the public at large." —Washington Post

"Fascinating…A masterly synthesis of history and law…Readers of The Words That Made Us will rightly marvel at its breadth and depth and at Mr. Amar's scholarly acumen."—Wall Street Journal

"Amar argues in this probing account that the United States Constitution emerged out of conversations and debates among the framers — and that those conversations continue to this day."—NYTBR (Editor's Choice)

"Amar's fresh and fascinating book focuses on the explosion of impassioned discourse that culminated in, and followed, the ratification of the U.S. Constitution. As the title suggests, the book elevates the importance of dialogue and debate in cementing American identity."—Christian Science Monitor

"[T]he best book on the subject in many years.… [A] fresh look at the ideas that shaped the Revolution, constitutional framing, and early republic… [A] book both popular and learned… a book not only of a scholar but a patriot. If widely read, it may make the difficulty of finding appropriate professional historians to teach our children less of a threat to our common future."—Law & Liberty

"Amar's expert knowledge of the Constitution does not inhibit his ability as a wordsmith to tell this story in a manner that honors the complexity of the story and remains accessible to a broad range of readers. Every patriotic American should read this fascinating history in order to better understand our founding document (The Constitution) and the history that led our ancestors to wage war against England and then against the naysayers who were opposed to the development of a strong central government."—Roanoke Times

"Dazzling…Against modern historians and legal scholars who condemn the constitutional order as a bulwark of elite dominion, Amar advances a neo Federalist defense of it as a deeply democratic, if imperfect, blueprint for stable liberty. This is no arid exercise in legal theory: Amar ties searching constitutional analysis into a gripping narrative of war, popular tumults, political intrigue, and even fashion, highlighted by vivid profiles of statesmen."—Publishers Weekly (starred review)

"A page-turning doorstop history of how early American courts and politicians interpreted the Constitution. A Yale professor of law and political science, Amar—who points out that most historians lack training in law and most lawyers are not knowledgeable enough about history—delivers a fascinating, often jolting interpretation. . . . Brilliant insights into America's founding document."—Kirkus (starred review)

"An audacious review of the Constitution's origins, growth, development, and implementation, and the experiences and exchanges that produced its core principles and precedents....Amar's multifaceted treatment of the start of the  U.S. constitutional project illustrates much about our historical memory and demonstrates that there is far more to the constitution than the document itself."—Library Journal (starred review)
Basic Books, 9780465096350, 832pp.
Publication Date: May 4, 2021
About the Author
Akhil Reed Amar is the Sterling professor of law and political science at Yale University and the author of several books on constitutional law and history, including America's Constitution: A Biography and America's Unwritten Constitution. He lives in Woodbridge, Connecticut.