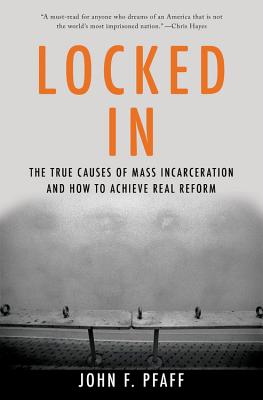 Locked In
The True Causes of Mass Incarceration-and How to Achieve Real Reform
Hardcover

* Individual store prices may vary.
Other Editions of This Title:
MP3 CD (8/8/2017)
Compact Disc (8/8/2017)
MP3 CD (8/8/2017)
Compact Disc (8/8/2017)
Description
A groundbreaking reassessment of the American prison system, challenging the widely accepted explanations for our exploding incarceration rates

In Locked In, John Pfaff argues that the factors most commonly cited to explain mass incarceration -- the failed War on Drugs, draconian sentencing laws, an increasing reliance on private prisons -- tell us much less than we think. Instead, Pfaff urges us to look at other factors, especially a major shift in prosecutor behavior that occurred in the mid-1990s, when prosecutors began bringing felony charges against arrestees about twice as often as they had before.

An authoritative, clear-eyed account of a national catastrophe, Locked In is "a must-read for anyone who dreams of an America that is not the world's most imprisoned nation" (Chris Hayes, author of A Colony in a Nation). It transforms our understanding of what ails the American system of punishment and ultimately forces us to reconsider how we can build a more equitable and humane society.
Praise For Locked In: The True Causes of Mass Incarceration-and How to Achieve Real Reform…
"Pfaff, let there be no doubt, is a reformer...Nonetheless, he believes that the standard story-popularized in particular by Michelle Alexander, in her influential book, The New Jim Crow-is false. We are desperately in need of reform, he insists, but we must reform the right things, and address the true problem."—Adam Gopnik, The New Yorker

"In the extremely important book, Locked In: The True Causes of Mass Incarceration and How to Achieve Real Reform, John F. Pfaff analyzes why America incarcerates more people than ever even as crime rates continue to fall... [he] also makes a compelling case that incarceration disrupts the lives of the incarcerated and their families long after they have served their time." —Wall Street Journal

"With rigor and specificity, John Pfaff sifts through the data to mount a convincing case about the causes of mass incarceration and the levers by which we can undo it. A must-read for anyone who dreams of an America that is not the world's most imprisoned nation." —Chris Hayes, host of All In with Chris Hayes and author of A Colony in a Nation

"A valuable contribution to the ongoing discussion about justice reform... Packed with charts and figures, it's candy to the numbers-loving brain, but even those who weary of statistics are sure to find some interesting tidbits... Peppered throughout are fascinating details about our justice system that you probably won't find elsewhere... Maybe it's time to stop arguing about who broke America. Locked In gives us some ideas for how we might fix it."—National Review

"An excellent overview of where America stands in regard to its prisons, and Pfaff's proposed reforms deserve serious consideration across the political spectrum." —American Conservative

"Provocative and packed with data, Locked In will change how you think about what's wrong with the criminal justice system and how to fix it. A book that will be instantly integral to solving one of the country's most important challenges."
—Emily Bazelon, Senior Research Scholar in Law, Yale University, and author of Sticks and Stones

"A refreshing look at the causes of mass incarceration, and is a must-read for anyone involved in the criminal justice reform movement. You may not agree with everything that Pfaff argues, but you will finish the book with a better understanding of the complexity of the problem and the need for solutions." —New York Journal of Books

"In Locked In, Pfaff plays a Socrates of criminal justice reform, interrogating all the main tenets of the Standard Story and eviscerating them with scores of data."—Pacific Standard

"Timely and authoritative, Pfaff's discussion of mass incarceration provides a valuable and accessible addition to the prison reform narrative and an excellent analysis of the U.S. criminal justice system."
—Library Journal

"[Pfaff] makes a powerful case that the war on drugs has had very little effect on incarceration rates overall, or racial disparities in prison more specifically."—New York Review of Books

"To those asking why the United States imprisons so many of its people, the answers and hints of possible reform are here."—Los Angeles Review of Books

"A succinct, powerful explanation of why much of what we think about the incarceration boom is probably wrong."—Bloomberg View

"Pfaff offers a trove of evidence that [the 'standard story' of mass incarceration] is by and large wrong or, at the very least, misses much of the real story. —Vox

"Required reading for students, citizens, activists and policy reformers interested in excavating how our system of hyper-incarceration was constructed incrementally over decades."—America Magazine

"A thorough and demanding examination of a problem that has no easy solutions and a challenge to policymakers to discard prior notions about the nature of the problem and the needed reforms."—Kirkus Reviews

"In Locked In, John Pfaff delivers a brilliant lesson in myth-busting that anyone interested in reform of our criminal justice system must heed."—Professor Robert Weisberg, co-director of the Stanford Criminal Justice Center

"Locked In is a game changer for those who care about the crisis of mass incarceration.... If you want to change how we imprison people, you have to read this book!"—Phillip Atiba Goff, President of the Center for Policing Equity and Professor at the John Jay College of Criminal Justice
Basic Books, 9780465096916, 320pp.
Publication Date: February 7, 2017
About the Author
John F. Pfaff is a Professor of Law at Fordham Law School. His work on mass incarceration, prosecutors, and criminal justice reform has been covered in the Economist, the New Yorker, the New York Times, Washington Post, Los Angeles Times, National Review, Slate, and Vox, among many others. He has a JD and a PhD in Economics from the University of Chicago. He lives in Brooklyn, New York.