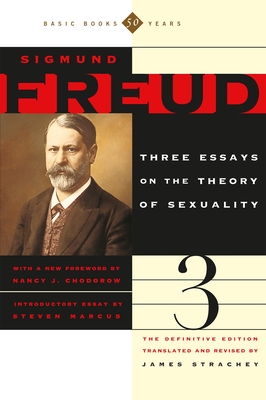 Three Essays On The Theory Of Sexuality (Paperback)
Basic Books, 9780465097081, 192pp.
Publication Date: February 18, 2000
Other Editions of This Title:
Paperback (9/29/2010)
Paperback (6/3/2011)
Hardcover (9/29/2010)
Paperback (2/6/2020)
Paperback (1/24/2017)
Hardcover (1/24/2017)
* Individual store prices may vary.
Description
The standard edition of Freud's seminal theory of the psychology of sexuality

These three essays -- "The Sexual Aberrations," "Infantile Sexuality," and "The Transformations of Puberty" -- are among Sigmund Freud's most important works. Here, Freud outlines the core features of libido theory, his grand view of the psychology of sexuality: sexual perversion is a matter of human nature and "normal" sexual behavior only appears later in life, sexual urges begin in infancy, and these urges turn their attention outward as we mature through puberty.

Freud first wrote Three Essays on the Theory of Sexuality in 1905 and spent the next two decades making major revisions to the text. This edition offers Freud's complete vision of the sexual self, in the definitive James Strachey translation.
About the Author
Sigmund Freud (1856-1939) was a clinical neurologist living and practicing in Vienna. His ground breaking theories of the id, ego, and super-ego of the mind continue to be studied throughout the world.
Praise For Three Essays On The Theory Of Sexuality…
"Publishing the Three Essays in a new accessible edition is exciting in and of itself; the commentaries by Marcus and Chodorow make it an historic volume. It is fitting to have a contemporary thinker such as Chodorow help the next generation understand its monumental contributions."
—Steven J. Ellman

"At the turn of the last century, Freud produced the Three Essays and The Interpretation of Dreams, the two pillars upon which the whole of his psychoanalysis sits like a lintel. Of the two, it is the Three Essays, with its outline of 'the libido theory,' that has again and again attracted controversy and spurred the later development of psychoanalysis."
—Elisabeth Young-Bruehl