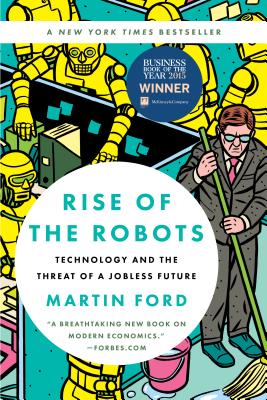 Rise of the Robots (Paperback)
Technology and the Threat of a Jobless Future
Basic Books, 9780465097531, 368pp.
Publication Date: July 12, 2016
* Individual store prices may vary.
Description
The New York Times-bestselling guide to how automation is changing the economy, undermining work, and reshaping our lives
"Lucid, comprehensive, and unafraid...;an indispensable contribution to a long-running argument."--Los Angeles Times
Winner of the 2015 FT & McKinsey Business Book of the Year Award

Top Business Book of 2015 at Forbes

One of NBCNews.com 12 Notable Science and Technology Books of 2015

What are the jobs of the future? How many will there be? And who will have them? As technology continues to accelerate and machines begin taking care of themselves, fewer people will be necessary. Artificial intelligence is already well on its way to making "good jobs" obsolete: many paralegals, journalists, office workers, and even computer programmers are poised to be replaced by robots and smart software. As progress continues, blue and white collar jobs alike will evaporate, squeezing working- and middle-class families ever further. At the same time, households are under assault from exploding costs, especially from the two major industries-education and health care-that, so far, have not been transformed by information technology. The result could well be massive unemployment and inequality as well as the implosion of the consumer economy itself.
The past solutions to technological disruption, especially more training and education, aren't going to work. We must decide, now, whether the future will see broad-based prosperity or catastrophic levels of inequality and economic insecurity. Rise of the Robots is essential reading to understand what accelerating technology means for our economic prospects-not to mention those of our children-as well as for society as a whole.

About the Author
Martin Ford, the founder of a Silicon Valley-based software development firm, has over twenty-five years of experience in computer design and software development. The author of The Lights in the Tunnel: Automation, Accelerating Technology, and the Economy of the Future, he lives in Sunnyvale, California.
Praise For Rise of the Robots: Technology and the Threat of a Jobless Future…
"[Rise of the Robots is]about as scary as the title suggests. It's not science fiction, but rather a vision (almost) of economic Armageddon."
Frank Bruni, New York Times
—
Frank Bruni, New York Times
"Compelling and well-written.... In his conception, the answer is a combination of short-term policies and longer-term initiatives, one of which is a radical idea that may gain some purchase among gloomier techno-profits: a guaranteed income for all citizens. If that stirs up controversy, that's the point. The book is both lucid and bold, and certainly a starting point for robust debate about the future of all workers in an age of advancing robotics and looming artificial intelligence systems."—
ZDNet
"For nonfiction, I tip my hat to Martin Ford's
Rise of the Robots
, which is vacuuming up accolades and is recommended reading for IIF staff. Ford's analysis, in a somewhat crowded field of similar books, offers a sobering assessment of how technology (robotics, machine learning, AI, etc.) is reshaping labor markets, the composition of growth, and the distribution of income and wealth, and calls for enlightened political and policy leadership to address coming, accelerating disruptions and dislocations."—
Timothy Adam,
Bloomberg Business
"Mr. Ford lucidly sets out myriad examples of how focused applications of versatile machines (coupled with human helpers where necessary) could displace or de-skill many jobs.... His answer to a sharp decline in employment is a guaranteed basic income, a safety net that he suggests would both cushion the effect on the newly unemployable and encourage entrepreneurship among those creative enough to make a new way for themselves. This is a drastic prescription for the ills of modern industrialization--ills whose severity and very existence are hotly contested.
Rise of the Robots
provides a compelling case that they are real, even if its more dire predictions are harder to accept."—
Wall Street Journal
"An alarming new book."—
Esquire
"A thorough look at how far machines have come"—
Washington Post, Innovations blog
"Ford offers ideas on changes in social policies, including guaranteed income, to keep our economy humming and prepare ourselves for a more automated future."—
Booklist
"A careful and courageous examination of automation and its possible impact on society."—
Kirkus Reviews
"In
Rise of the Robots
, Ford coolly and clearly considers what work is under threat from automation."—
New Scientist
"Martin Ford has thrust himself into the center of the debate over AI, big data, and the future of the economy with a shrewd look at the forces shaping our lives and work. As an entrepreneur pioneering many of the trends he uncovers, he speaks with special credibility, insight, and verve. Business people, policy makers, and professionals of all sorts should read this book right away--before the 'bots steal their jobs. Ford gives us a roadmap to the future."—
Kenneth Cukier, Data Editor for the Economist and co-author of Big Data: A Revolution That Will Transform How We Live, Work, and Think
"Few captured the mood as well as Martin Ford in
Rise of the Robots
, the winner of the FT and McKinsey Business Book of the Year Award, which painted a bleak picture of the upheavals that would come as ever-greater numbers of even highly skilled workers were displaced by machines."—
Financial Times
"[A] breathtaking new book on modern economics."—
Forbes.com
"Lucid, comprehensive and unafraid to grapple fairly with those who dispute Ford's basic thesis,
Rise of the Robots
is an indispensable contribution to a long-running argument."—
Los Angeles Times
"As Martin Ford documents in
Rise of the Robots
, the job-eating maw of technology now threatens even the nimblest and most expensively educated...the human consequences of robotization are already upon us, and skillfully chronicled here."—
New York Times Book Review