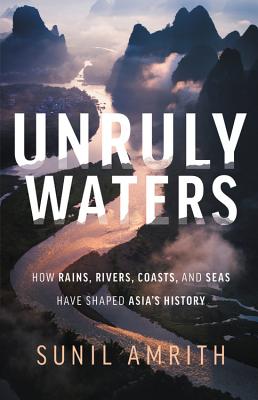 Unruly Waters
How Rains, Rivers, Coasts, and Seas Have Shaped Asia's History
Hardcover

* Individual store prices may vary.
Description
From a MacArthur "Genius," a bold new perspective on the history of Asia, highlighting the long quest to tame its waters

Asia's history has been shaped by her waters. In Unruly Waters, historian Sunil Amrith reimagines Asia's history through the stories of its rains, rivers, coasts, and seas -- and of the weather-watchers and engineers, mapmakers and farmers who have sought to control them. Looking out from India, he shows how dreams and fears of water shaped visions of political independence and economic development, provoked efforts to reshape nature through dams and pumps, and unleashed powerful tensions within and between nations.

Today, Asian nations are racing to construct hundreds of dams in the Himalayas, with dire environmental impacts; hundreds of millions crowd into coastal cities threatened by cyclones and storm surges. In an age of climate change, Unruly Waters is essential reading for anyone seeking to understand Asia's past and its future.
Praise For Unruly Waters: How Rains, Rivers, Coasts, and Seas Have Shaped Asia's History…
"A compelling history of India over the last 200 years mostly describing how its people and rulers have dealt with the weather. "—Kirkus Reviews, starred review

"When confronted with tragedy, the modernist project has always retreated behind the sober voice of science. There is no more vivid description of this encounter than Sunil Amrith's wonderful new book, nor a better example of combining sympathy for the main protagonists---the planners, the engineers, the meteorologists---with a sustained sense of how, with the best of intentions, things can go horribly wrong."—Abhijit V. Banerjee, coauthor of Poor Economics: A Radical Rethinking of the Way to Fight Global Poverty

"In this groundbreaking work, Sunil Amrith deftly and imaginatively steers us towards an understanding of both water's worldly historical importance and its sublime capacity to exceed the human scale. Between its haunting opening pages and chilling epilogue, Amrith's sensitive, deeply engaging, and densely woven narrative reminds us that the present water crisis is the legacy of a colonial past---not of the peculiarities of Asian people and climate. This is a politically urgent book that shows the need to tell more expansive histories to help us address climate risks that transcend national borders."—Priya Satia, author of Empire of Guns: The Violent Making of the Industrial Revolution

"Across Asia, water is power. Sunil Amrith's Unruly Waters is a gripping work, both timely and necessary, that captures the forces at work in the struggle to control Asia's water. From cultural influences of colonial empire engineering to atmospheric chemistry in a time of climate change, Amrith reveals all that is at stake for half the planet's population."—Meera Subramanian, author of A River Runs Again
Basic Books, 9780465097722, 416pp.
Publication Date: December 11, 2018
About the Author
Sunil Amrith is the Mehra Family Professor of South Asian Studies and Professor of History at Harvard University and a 2017 MacArthur Fellow. The prize-winning author of Crossing the Bay of Bengal, as well as several other books and articles, he lives in Cambridge, Massachusetts.
or
Not Currently Available for Direct Purchase