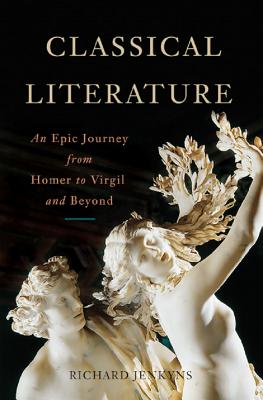 Classical Literature
An Epic Journey from Homer to Virgil and Beyond
Hardcover

* Individual store prices may vary.
Description
The writings of the Greeks and Romans form the bedrock of Western culture. Inventing the molds for histories, tragedies, and philosophies, while pioneering radical new forms of epic and poetry, the Greeks and Romans created the literary world we still inhabit today. Writing with verve and insight, distinguished classicist Richard Jenkyns explores a thousand years of classical civilization, carrying readers from the depths of the Greek dark ages through the glittering heights of Rome's empire.

Jenkyns begins with Homer and the birth of epic poetry before exploring the hypnotic poetry of Pindar, Sappho, and others from the Greek dark ages. Later, in Athens's classical age, Jenkyns shows the radical nature of Sophocles's choice to portray Ajax as a psychologically wounded warrior, how Aeschylus developed tragedy, and how Herodotus, in "inventing history," brought to narrative an epic and tragic quality. We meet the strikingly modern figure of Virgil, struggling to mirror epic art in an age of empire, and experience the love poems of Catullus, who imbued verse with obsessive passion as never before. Even St. Paul and other early Christian writers are artfully grounded here in their classical literary context.

A dynamic and comprehensive introduction to Greek and Roman literature, Jenkyns's Classical Literature is essential reading for anyone seeking a deeper understanding of the classics -- and the extraordinary origins of Western culture.

"There is scarcely anything on which he does not offer an original aperç sometimes illuminating, sometimes simply provocative, but always worth reading... Jenkyns's view of ancient literature is Olympian." -- G.W. Bowersock, The New York Review of Books
Praise For Classical Literature: An Epic Journey from Homer to Virgil and Beyond…
Kirkus Reviews
"A deft distillation of 1,000 years of literature. Classicist Jenkyns crafts a concise and spirited overview of poetry, drama, and prose from Homer to post-Augustan Rome, focusing on a broad swath of writers.... Jenkyns' enthusiasm and erudition infuse a shrewd, illuminating narrative."

J. E. Lendon, professor of history, University of Virginia, and author of Song of Wrath and Soldiers and Ghosts
"In outlining the lofty, uncompromising, literary tradition of ancient Greece and Rome, by some magic Richard Jenkyns preserves and conveys the nobility and sublimity of his subject. The reader for whom this book is an introduction to the Classics will come away with a grasp of why classical writings are the irreplaceable soul of the West, while the reader who fancies his classical learning will be humbled by a rush of new ideas about works he or she thought long tamed."

Christopher Pelling, Emeritus Regius Professor of Greek, University of Oxford
"If you want to know why the best classical authors are very, very good, this is the book for you—beautifully written, with a feeling for style on every page. If you want to know why some are not so good, this is the book for you too: Jenkyns does not mince his value judgments, and that makes it an even more refreshing read."

Christopher B. Krebs (author of A Most Dangerous Book), The Wall Street Journal
"Thus an accessible and enjoyable overview of Greek and Roman literature such as Richard Jenkyns's Classical Literature: An Epic Journey From Homer to Virgil and Beyond is most welcome. He travels with us from the fountain, Homer, downstream, visiting the highlights of Greek and Roman literature, whose basic features he captures in brief and pithy phrases: Hesiod's didactic poetry on rural themes has a "dour peasant flavor"; Thucydides has a "hard and unblinking eye." While we learn little about the afterlife of the classical texts, we learn a great deal about their artistry and their meaning.This is no surprise, as few scholars are better positioned to embark on such a journey than Mr. Jenkyns."

Library Journal, STARRED review
"A rich, witty, perceptive, and brief account of the Greek and Latin classics and their importance, both in themselves and in their enduring influence on the Western world. One of the best introductions available to the general reader."

Sunday Telegraph (UK)
"[A]n epic undertaking, an odyssey of its own... There is a great deal in Jenkyns's book for which to be thankful... most of all his infectious love."



G.W. Bowersock, The New York Review of Books
"In this short book, written in artfully uncomplicated prose, Jenkyns not only informs his readers about all the major authors of Greek and Roman antiquity but invariably delivers fresh, arresting, and by no means uncontroversial opinions on most of them. His book will certainly instruct those in search of information about classical literature, but it will also give profit and pleasure to those who already know something about it. There is scarcely anything on which he does not offer an original aperçu, sometimes illuminating, sometimes simply provocative, but always worth reading... Jenkyns's view of ancient literature is Olympian. He sees it from a great height, with a sharp eye and broad vision, and what he sees is never clouded or obscure. His success comes from an unusual conjunction of distance with a deep knowledge and love of the literature about which he writes."
Basic Books, 9780465097975, 288pp.
Publication Date: March 1, 2016
About the Author
Richard Jenkyns is an emeritus professor of the classical tradition and the Public Orator at the University of Oxford. The author of many books, including Virgil's Experience and The Victorians and Ancient Greece, he lives in Oxford, England.
or
Not Currently Available for Direct Purchase