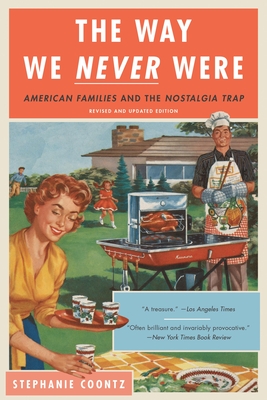 The Way We Never Were
American Families and the Nostalgia Trap
Paperback

* Individual store prices may vary.
Other Editions of This Title:
Digital Audiobook (3/4/2019)
Compact Disc (3/5/2019)
Compact Disc (3/5/2019)
Description
The definitive edition of the classic, myth-shattering history of the American familyLeave It to Beaver was not a documentary, a man's home has never been his castle, the "male breadwinner marriage" is the least traditional family in history, and rape and sexual assault were far higher in the 1970s than they are today. In The Way We Never Were, acclaimed historian Stephanie Coontz examines two centuries of the American family, sweeping away misconceptions about the past that cloud current debates about domestic life. The 1950s do not present a workable model of how to conduct our personal lives today, Coontz argues, and neither does any other era from our cultural past. This revised edition includes a new introduction and epilogue, exploring how the clash between growing gender equality and rising economic inequality is reshaping family life, marriage, and male-female relationships in our modern era.

More relevant than ever, The Way We Never Were is a potent corrective to dangerous nostalgia for an American tradition that never really existed.
Praise For The Way We Never Were: American Families and the Nostalgia Trap…
"[Coontz] approaches the subject of what we now insist up on calling 'family values' with what is, in the current atmosphere, a refreshing lack of partisan cant."—Jonathan Yardley, Washington Post Book World

"Stephanie Coontz has her finger on the pulse of contemporary families like no one else in America."—Paula England, 2015-15 President, American Sociological Association

"Coontz
presents fascinating facts and figures that explode the cherished myths about
self-sufficient, happy, moral families."—Newsday

"Historically rich, and loaded with anecdotal evidence, The Way We Never Were effectively demolishes the normal, traditional nuclear family as neither normal nor traditional, and not even nuclear."—Nation

"A wonderfully perceptive,
myth-debunking report.... An important contribution to the current debate on
family values."—Publishers Weekly

"Clear, incisive, and
distinguished by Coontz's personal conviction and by its vast range of cogent
examples, including capsule histories of women in the labor force and of black
families. Fascinating, persuasive, politically relevant."—Kirkus Reviews

"Coontz's
strength is in the way she shows that families of every era have been blamed
for conditions beyond their control."—San Francisco Chronicle

"[Coontz] persuasively
dispels the myths and stereotypes of 'traditional' family values as the product
of the postwar era."—Library Journal
Basic Books, 9780465098835, 576pp.
Publication Date: March 29, 2016
About the Author
Stephanie Coontz is a member of the faculty of Evergreen State College in Olympia, Washington, and the director of research and public education at the Council on Contemporary Families.