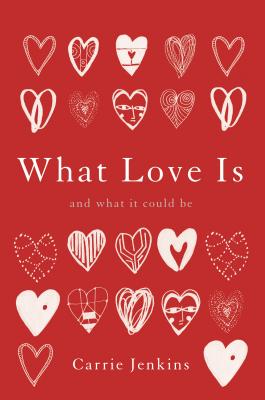 What Love Is (Hardcover)
And What It Could Be
Basic Books, 9780465098859, 224pp.
Publication Date: January 24, 2017
* Individual store prices may vary.
Description
A rising star in philosophy examines the cultural, social, and scientific interpretations of love to answer one of our most enduring questions
What is love? Aside from being the title of many a popular love song, this is one of life's perennial questions. In What Love Is, philosopher Carrie Jenkins offers a bold new theory on the nature of romantic love that reconciles its humanistic and scientific components. Love can be a social construct (the idea of a perfect fairy tale romance) and a physical manifestation (those anxiety- inducing heart palpitations); we must recognize its complexities and decide for ourselves how to love. Motivated by her own polyamorous relationships, she examines the ways in which our parameters of love have recently changed-to be more accepting of homosexual, interracial, and non-monogamous relationships-and how they will continue to evolve in the future. Full of anecdotal, cultural, and scientific reflections on love, What Love Is is essential reading for anyone seeking to understand what it means to say "I love you." Whether young or old, gay or straight, male or female, polyamorous or monogamous, this book will help each of us decide for ourselves how we choose to love.

About the Author
Carrie S. I. Jenkins is Professor of Philosophy at the University of British Columbia, Vancouver, and a nationally elected Canada Research Chair. Jenkins received her BA, MPhil and PhD degrees from Trinity College, Cambridge, where she read philosophy in the analytic tradition shaped by Bertrand Russell, Ludwig Wittgenstein, and G.E. Moore. She previously held academic posts at the University of St Andrews, the Australian National University, and the University of Michigan. She tweets @carriejenkins.
Praise For What Love Is: And What It Could Be…
"[Jenkins] lets readers in on some personal secrets, thereby creating the feeling that the book is a safe thinking space. Her personal approach also humanizes her argument because it gives readers concrete examples about the aggressions, judgments, and discriminations to which she has been subjected... An exceptionally clear and easily readable account of the current research into romantic love and ideas for how we might think differently about it."—
Los Angeles Review of Books
"A testament to love... accessible to all."
—
National Post
"A rich and thoughtful book... Jenkins writes simply and engagingly about a subject on all our minds."—
Toronto Star
"Jenkins navigates readers through philosophical and metaphysical conversations in an accessible, conversational, and frequently funny way, using analogies that are both memorable and useful... a readable and highly informative book... [Jenkins] stimulates an essential, relevant conversation in a novel, inspiring way."—
Quill & Quire
"Required reading... Equally important to its subject matter, the book is a master class in how to think and why. Jenkins researches, questions, unpacks, considers, and examines... [she] uses her readable book to advocate for thinking both critically and in great depth as a form of self-protection and self-advocacy."—
Booklist, starred review
"This is a remarkable book, philosophically rich but also personal in a way that is rare. It uses the almost cliched question what love is to draw the reader into a fascinating multidisciplinary exploration, drawing from science, history, philosophy, and politics. It's highly accessible to any reader, yet it also makes important original philosophical points--an extraordinary combination. It's a great introduction not just to its topic, but to what philosophy can be at its finest: rigorously argued and yet deeply relevant to the most important issues in our lives."—
Jennifer M. Saul, Professor of Philosophy, University of Sheffield
"This book is an invitation to think for yourself about what romantic love is and might be. Carrie Jenkins writes with great clarity and openness about a concept that matters to us all."—
Nigel Warburton, author of A Little History of Philosophy