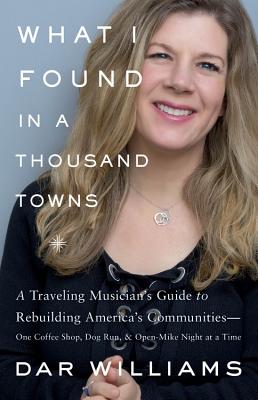 What I Found in a Thousand Towns
A Traveling Musician's Guide to Rebuilding America's Communities-One Coffee Shop, Dog Run, and Open-Mike Night at a Time
Hardcover

* Individual store prices may vary.
Other Editions of This Title:
Digital Audiobook (9/4/2017)
Description
A beloved folk singer presents an impassioned account of the fall and rise of the small American towns she cherishes.

Dubbed by the New Yorker as "one of America's very best singer-songwriters," Dar Williams has made her career not in stadiums, but touring America's small towns. She has played their venues, composed in their coffee shops, and drunk in their bars. She has seen these communities struggle, but also seen them thrive in the face of postindustrial identity crises.

Here, in an account that "reads as if Pete Seeger and Jane Jacobs teamed up" (New York Times), Williams muses on why some towns flourish while others fail, examining elements from the significance of history and nature to the uniting power of public spaces and food. Drawing on her own travels and the work of urban theorists, Williams offers real solutions to rebuild declining communities.

What I Found in a Thousand Towns is more than a love letter to America's small towns, it's a deeply personal and hopeful message about the potential of America's lively and resilient communities.
Praise For What I Found in a Thousand Towns: A Traveling Musician's Guide to Rebuilding America's Communities-One Coffee Shop, Dog Run, and Open-Mike Night at a Time…
"The popular folk singer and songwriter Dar William's new book is not another endless parade of music memoirs. Having performed around around the United States for so many years, Williams writes about how she believes towns can best thrive in an age of economic and environmental struggles.... [What I Found in a Thousand Towns] reads as if Pete Seeger and Jane Jacobs teamed up, more a report from the Green party than the green room."—New York Times

"What I Found in a Thousand Towns is a thoughtful and passionately explored journey of how American towns can revitalize and come to life through their art, food, history, mom-and-pop business, and community bridge building. Dar Williams gives us hope and vision for the possibilities of human connection."
—Emily Saliers, Indigo Girls

"Dar Williams channels the soul and spirit of Jane Jacobs. With a song-writer's eye for detail and an urbanist's nose for what makes cities and towns work, she provides stunning portraits of America's great small towns. What I Found in a Thousand Towns will open your eyes to the key things that makes communities succeed and thrive even when the deck is stacked against them. I love this book: You will too."
—Richard Florida, author of The New Urban Crisis

"To become a great city planner takes three things: strong powers of observation, the ability to communicate, and the opportunity to travel the world to learn from successes and failures. Anyone who has heard a Dar Williams song is familiar with her gifts in the first two categories. And what better vocation than wandering minstrel to get to know the wide world and all its places? So observant, so articulate, and so prepared, Ms. Williams has created a stealth city planning text that is unsurpassed in its ability to charm and enlighten."
—Jeff Speck, city planner and author of Walkable City: How Downtown Can Save America, One Step at a Time

"During a time of political, economic, and social upheaval across the United States, Williams' grounded optimism is a refreshing corrective."
—Kirkus
Basic Books, 9780465098965, 288pp.
Publication Date: September 5, 2017
About the Author
Dar Williams is a renowned folk musician and composer based in the Hudson Valley who has sold millions of albums and toured across the United States. Williams is also a well-known environmentalist and social justice advocate.