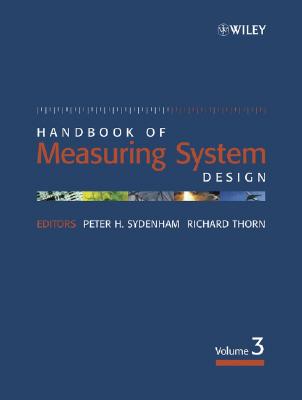 Handbook of Measuring System Design, 3 Volume Set (Hardcover)
Wiley, 9780470021439, 1648pp.
Publication Date: March 4, 2005
* Individual store prices may vary.
Description
The most comprehensive and up-to-date reference work coveringthe scientific fundamentals and practical considerations fordesigning, developing and implementing measuring systems in a broadrange of engineering and technological fields. Measuring systems lie at the heart of all science, engineeringand technology, and are used to quantify physical phenomena such astemperature, pressure, voltage and current. Rapid advances incomputing and electronics have enabled the development of highlysophisticated measuring systems that can be utilised across manyindustrial fields. The Handbook of Measuring System Design provides anauthoritative and comprehensive reference that addresses a widerange of measurement-specific design and application problems inthe fields of engineering and technology. Building on athorough treatment of foundational topics the Handbook presents amodern, 'systems thinking' approach and covers manyareas that have received little attention elsewhere (systems, safety, design, legal and artificial intelligence).
About the Author
Peter Sydenham has the degrees of BE Hons (Adel), ME (Adel), PhD (Warwick) in electronic and instrument systems engineering. His Higher Doctorate, DSc (Warwick), was awarded for contributions to the structure of the measurement discipline. He was the long standing Head of Electronic Engineering, University of South Australia, afterwards developing the Australian Centre for Test and Evaluation that evolved into the Systems Engineering and Evaluation Centre. He is the Adjunct Professor of Systems Test and Evaluation and a Visiting Fellow at University College London, UK. Richard Thorn has MSc and PhD degrees from Bradford University, UK. He has held research or academic positions in Australia, Norway and the UK. He is currently at the University of Derby, UK.
or
Not Currently Available for Direct Purchase