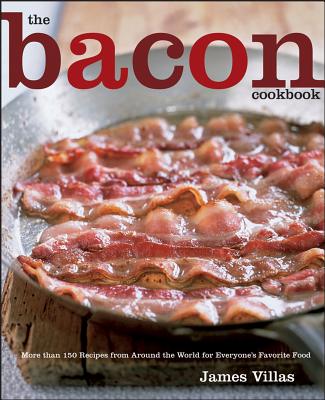 The Bacon Cookbook (Hardcover)
More than 150 Recipes from Around the World for Everyone's Favorite Food
Houghton Mifflin Harcourt, 9780470042823, 288pp.
Publication Date: September 14, 2007
* Individual store prices may vary.
Description
Bacon. It's crispy, salty, smoky, sweet . . . and totally irresistible. Renowned food writer James Villas offers 168 intriguing ways to savor the flavor of everyone's favorite meat, ranging across America and around the globe. You'll find familiar favorites like Spaghetti alla Carbonara and Cobb Salad as well as more exotic but equally delectable fare, such as California Hangtown Fry and Portuguese Egg and Bacon pudding. Illustrated with beautiful color photographs throughout and featuring sources for today's best artisanal and international bacon, The Bacon Cookbook is your guide to a world of bacon possibilities and pleasures.
About the Author
JAMES VILLAS's work has appeared in Esquire, Food & Wine, Gourmet, Bon Appétit, and the New York Times. He won James Beard Awards for Journalism in 2003 and for Pig: King of the Southern Table.
Praise For The Bacon Cookbook: More than 150 Recipes from Around the World for Everyone's Favorite Food…
With his typical evocative prose, Villas, author of a dozen other cookbooks (including
The Glory of Southern Cooking
), asks, "Who, under any circumstances, is not rendered almost helpless by the tantalizing sound of bacon sizzling slowly in a skillet, by the taunting backwoods aroma that permeates the air...?" He opens with a guide to "the international world of bacon" (including pancetta, lard fumé, and other relatives), which is followed by mouthwatering recipes for all courses of a meal, from Lacquered Japanese Bacon to Portuguese Egg and Bacon Pudding. There are, in fact, several other cookbooks devoted to bacon, including Sara Perry's Everything Tastes Better with Bacon, but with its irresistible recipes and wealth of information and lore, Villas's new title is recommended for most collections. (
Library Journal
, October 15, 2007) 
"there is nothing standard about Villas book…shows the versatility of bacon…Vegetarians beware; these dishes could prove too tempting." (Independent, September 13, 2008)