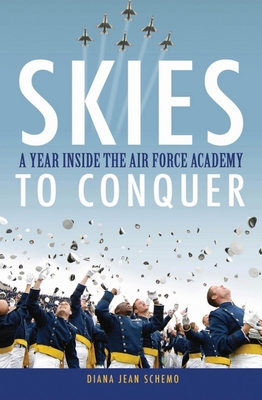 Skies to Conquer (Hardcover)
A Year Inside the Air Force Academy
Wiley, 9780470046371, 314pp.
Publication Date: April 26, 2010
* Individual store prices may vary.
Description
A former New York Times reporter's year behind the scenes at the scandal-ridden Air Force Academy
Diana Jean Schemo covered the Air Force Academy's sexual assault scandal in 2003, one of a series of academy embarrassments that have included drug use, rape complaints, and charges of evangelical officers pushing Christianity on cadets of all faiths. Today, the institution is in flux--a fascinating time to look at the changes being made and the experience of today's cadets.
Schemo followed a handful of academy cadets through the school year. From the admissions process and punishing weeks of basic training to graduation, she shares the triumphs and tribulations of the cadets and the struggle of the academy's leaders to set their embattled alma mater on a straighter path.
Follows cadets in all grades, with insights on day-to-day academy life and training
Written by a veteran reporter, two-time foreign correspondent and Pulitzer Prize nominee, with excellent contacts at the academy
Includes 38 black-and-white photographs
Like David Lipsky's successful Absolutely American: Four Years at West Point, this book offers a fascinating window on the training of our military today. But Schemo's book updates the story: the seniors were the first class to sign up after the attacks of 9/11, and the road to graduation, this time, leads to an America at war.
About the Author
Diana Jean Schemo, a veteran journalist and foreign bureau chief at the "Baltimore Sun" and the "New York Times," has covered poverty and child abuse, culture, religion, and education. Her reports have tracked rebels in Colombia, counterfeiting in Paraguay, and indentured servitude in Brazil. She has written from more than twenty-five countries and regions, including Somalia, Iraq, Israel, and the Amazon. For more, visit www.skiestoconquer.com.